5 most-read stories so far today: Police identify 2 accused of leading officers on hourslong pursuit that left officer, K-9 injured
Here are the top 5 trending stories today. 
Police identify 2 accused of leading officers on hourslong pursuit that left officer, K-9 injured
CROWN POINT — Police on Friday identified a 26-year-old Markham man and a 25-year-old Homewood man accused of leading police on a nearly two-hour chase from the Cedar Lake area to Chicago's South Side.
Dionte Vaughns, 26, of Markham, and Donzel Jenkins, 25, of Homewood, were expected to face charges in Illinois and Lake County Criminal Court, police said.
Lake County sheriff's Officer Doug Parker and his K-9 Rocky, a Dutch shepherd, were recovering well Friday from injuries they suffered during Thursday's chase, Sheriff Oscar Martinez Jr. said in a statement.
Police were working with the Lake County prosecutor's office to charge Vaughns with resisting arrest and auto theft.
Jenkins could be charged in Lake County with resisting arrest, auto theft, two counts of reckless driving and numerous traffic violations, a sheriff's release said.
The chase began about 8:30 a.m. Thursday when police attempted to stop a 2006 silver Mercedes-Benz, which had been reported stolen out of Forest Park, Illinois, earlier that morning.
The men sped off in the Mercedes and nearly struck a construction worker as they fled east on 133rd, police said. The chase continued into Illinois, ending nearly two hours later near 93rd and May streets in Chicago.
Parker and his K-9 were injured when they exited the passenger side of their squad and were struck by another police car as the men fled on foot from the Mercedes in South Holland. Rocky suffered a broken paw, was stabilized at Glenwood Village Pet Hospital and later taken by sheriff's helicopter to a veterinary specialist at Purdue University in West Lafayette.
Jenkins and Vaughn continued to run and were able to steal a second vehicle — a white pickup truck — and elude capture at that point, police said.
The pursuit went through multiple communities, on Interstates 94 and 57, and reached speeds of up to 80 mph, police said. The Lake County sheriff's helicopter crew kept tabs on the suspects' location until they were taken into custody.
Martinez said during a Thursday news conference the injuries to the officer and K-9 would be a teaching moment for his department.
No weapons were found despite initial reports the suspects may have been armed, Martinez said.
Broad Street Gyros owner facing felony charges after cocaine found in customer's cheese stick order
GRIFFITH — Two months after a Broad Street Gyros customer found cocaine in her cheese sticks order, police have secured felony charges against the business owner now accused of attempting to deal cocaine out of her restaurant. 
Griffith Police Cmdr. Keith Martin said charges were filed and a warrant issued Thursday for Carrie Demoff's arrest.
The 50-year-old Gary woman was taken into custody at a known associate's house in Calumet Township and is now at Lake County jail, Martin said. 
The business at 105 N. Broad St. in downtown Griffith — steps away from the town's police department — was first shuttered Nov. 22. The Town Council voted to allow the suspension to stand during the police department's investigation, records show. 
Police said this week that the business remains shut down and the license suspended. 
On surveillance footage, Demoff is seen entering the business office and returning to the kitchen prep line to pick up a white Styrofoam container and "drop an object into it and then seal with a similar style lid,"  the charging affidavit states. 
The styrofoam cup was then taken to another prep station and remained in Demoff's possession until it was placed on the counter and then placed in a larger bag.
The cheese sticks order remained in the camera view until a customer arrived and paid for her meal that "unknowingly (contained) the narcotics packaged by Demoff for another individual," the affidavit stated. 
Customer finds cocaine
At about 6:20 p.m. Nov. 21, police received a 911 call from a woman who explained she discovered drugs in her take-home order from Broad Street Gyros.
She told police when she came home, she immediately got a call from a female she believed to be the business owner, Demoff. Demoff asked if she received an order of cheese sticks by mistake, the affidavit said. 
When the customer said yes, the person on the other end requested she "bring it back," at which point the customer refused. The person on the phone pressed further, even asking for the customer's home address so they could personally pick it up.
Growing suspicious, the customer looked more closely at her food and discovered a white powdery substance in a container that later tested positive for cocaine, Martin said.
Officers were able to obtain a search warrant that night, executed at about 8:40 p.m., Martin said. A K-9 handler and his police dog, Gino, reportedly detected the presence of drugs in several locations. 
"The most prominent was in the business office," Martin said. 
Police records show the business owner was present at the time of the executed search warrant.
No drugs were located, but the owner allegedly admitted to police during the search that she had "partied before while at work," Martin said, referring to police records.
When the detective asked what "partied" meant, the woman replied she "did a line (of cocaine) and toked a few times," court records show. 
Demoff told police she realized she mistakenly packaged an order when two "younger men" came in upset they didn't receive their order of cheese sticks. 
When pressed about why she didn't simply make a fresh order, Demoff became hostile and upset with officers, the affidavit stated. 
Martin said Griffith police had been waiting on state police to extract information from surveillance footage seized from the business to pursue charges.
Video footage shows a man enter Broad Street Gyros that night, bypass the cashier to speak directly with Demoff, records show. 
"The male locates his wallet and begins to count out cash ... and Demoff (becomes) visibly distraught and irate since she cannot locate the bag, frantically making phone calls," the affidavit states.
Demoff has been charged with attempted dealing in cocaine, a level 4 felony, and possession of cocaine, a level 6 felony. 
She was also charged with "maintaining a common nuisance - controlled substances" for "knowingly or intentionally" maintaining her business for unlawful use of manufacturing, selling and delivering controlled substances, records show. 
2 Crown Point men charged in October attempted armed robbery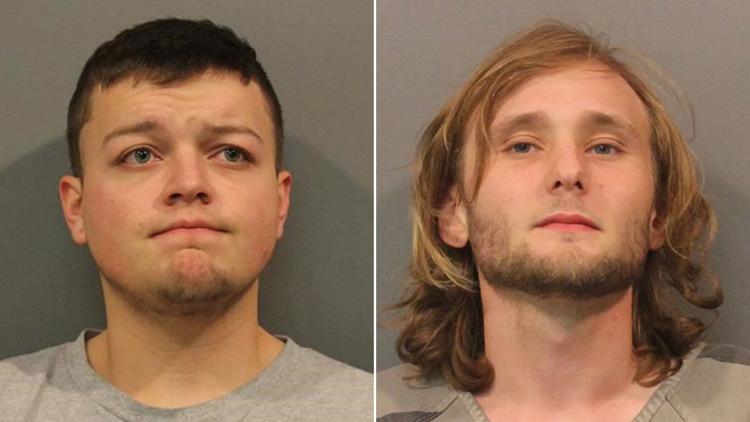 CROWN POINT — Two men have been charged in connection with an Oct. 18 attempted armed robbery. 
Joseph Dean Chalos, 24, and Leonardo Verduzco, 23, both of Crown Point, each face charges of attempted armed robbery, attempted armed robbery resulting in bodily injury and attempted robbery, according to an affidavit filed in Lake Criminal Court. 
The 21-year-old victim stabbed one of the suspects during an altercation before he fled the home in the 200 block of West Goldsborough Avenue and called 911 from a nearby gas station, Crown Point police said in a news release.  Both suspects were allegedly masked during the robbery.
Police were able to identify the individuals as Verduzco and Chalos. Verduzco is now incarcerated at Lake County jail. Chalos remains at large.
After the incident, investigators obtained a search warrant and raided the home Oct. 21 with assistance from Lake County's SWAT team.
The search led to the arrest of two 21-year-old men in the home on charges of marijuana possession and maintaining a common nuisance. 
"It's important for our citizens to know that this crime and victim were not random targets. We quickly became aware that most of those involved in this case either personally knew each other or were familiar with one another on some level," Chief Pete Land said in a news release. 
UPDATE: Police investigating fatal crash in front of Michigan City High School
MICHIGAN CITY — Police were on the scene of a fatal, single-vehicle crash Thursday night in front of Michigan City High School. 
Michigan City Police Chief Mark Swistek said he got the call about 7:45 p.m. of a report of a crash near the 8000 block of Pahs Road, not far from Canterbury House Apartments.
One person died, he said.
Police urged drivers to avoid Pahs Road from Johnson Road and Woodland Avenue while police investigate.
Other information, including the victim's age or gender, was not immediately available. It's unclear if the driver had any passengers in the vehicle at the time of the crash. 
Power was knocked out in the area due to the crash, according to a Facebook post by the police department. NIPSCO is working to restore power. 
Police remained on scene as of 8:30 p.m., Swistek said. 
Suspect in custody after Lake Station woman stabbed in Ravinia Pines mobile home park
LAKE STATION — Police are investigating after a woman was stabbed in her home early Thursday. 
Lake Station officers were dispatched about 12:45 a.m. to the 800 block of West 37th Avenue to find a 40-year-old woman in the driver seat of a car with stab wounds, police said. 
Officers provided medical treatment to the female until medics arrived. The victim told police the stabbing happened at the home in Ravinia Pines, a mobile home park at 534 E. 37th Ave., by a "known female subject," who is also a neighbor at Ravinia Pines. 
The woman was first taken to St. Mary Medical Center but later airlifted to a hospital in South Bend with "many stab and cut wounds."  
Officers were able to obtain a search warrant and collect evidence related to the crime.
The suspect is being held and is expected to be formally charged through the Lake County Prosecutor's office, police said. 
Anyone with information regarding this case can contact Detective Sergeant Glenn Gulley at 219-962-1186 or by email at ggulley@lakestation-in.gov.