5 most-read stories so far today: State officials urge Hoosiers to upgrade their driver's licenses, identification cards to REAL ID standard
Here are the top 5 trending stories today. 
State officials urge Hoosiers to upgrade their driver's licenses, identification cards to REAL ID standard
INDIANAPOLIS — State officials are encouraging Hoosiers to visit a local Bureau of Motor Vehicles office to upgrade their driver's license or state identification card to a REAL ID-compliant credential.
REAL ID is a federally mandated security standard, enacted following the Sept. 11, 2001, terrorist attacks, that's intended to ensure every state follows similar processes for issuing and producing driver's licenses and state identification cards.
Beginning Oct. 1, 2020, Hoosiers lacking a REAL ID license or identification card will be prohibited from boarding commercial airplanes, and barred from entering federal courthouses, military bases, nuclear power plants and similar security sensitive facilities.
"Upgrading sooner, rather than later, saves time and it can help avoid flight or accessibility issues in the future," said BMV Commissioner Peter Lacy.
To obtain a REAL ID, Hoosiers must provide a document proving identity and lawful status in the United States, such as a birth certificate or passport; proof of Social Security registration, such as a Social Security card or W-2 statement; and two documents, such as a computer-generated bill and bank statement, that prove Indiana residency.
A full list of acceptable documents is available online at realid.in.gov.
New Indiana driver's license and identification card applicants only can obtain a REAL ID credential.
However, current card holders have been permitted to renew their credentials without upgrading, leaving many Hoosiers potentially at risk of being unable to travel by air unless they take action before October 2020.
Hoosiers can check if their credential is REAL ID-compliant. It will have a gold star outline in the upper right corner.
Gov. Eric Holcomb and Janet Holcomb, Indiana's first lady, recently upgraded their driver's licenses during a roughly 15-minute visit to a Statehouse BMV office that's working to provide REAL ID upgrades to state employees and members of the General Assembly.
Holcomb said afterward: "This was easy peasy, and I'd encourage everyone to do it sooner rather than later."
The first-term Republican, who normally is not a fan of federal mandates, said he didn't mind that the requirement to upgrade to REAL ID is being imposed on states and their residents by Washington, D.C.
"It's understandable," Holcomb said. "We're all about safety and security and we want to play our part."
Affidavit: 4-year-old boy was watching cartoons the night he was shot and killed allegedly by his uncle in East Chicago
EAST CHICAGO — Four-year-old Garrion Glover Jr. was watching cartoons in his mother's living room the same night he was allegedly shot and killed by his uncle, newly unsealed court records show.
Lamario E. Delgado-Gonzalez, 23, was taken into custody Dec. 17 in Normal, Illinois, in connection with the May 11 death of Garrion at the boy's Indiana Harbor section apartment, East Chicago police said.
Delgado-Gonzalez was extradited Dec. 21 to Lake County and is now in custody at the Lake County Jail on charges of murder, neglect of a dependent resulting in death and reckless homicide, court records show.
Delgado-Gonzalez was charged in October, but the court records were sealed until Delgado-Gonzalez's arrest.
The defendant is jailed without bond. A formal court appearance has not yet been scheduled, according to court records. 
In interviews with police, Delgado-Gonzalez denied owning a weapon or having any involvement in Garrion's death, but Instagram photos from his account show the 23-year-old sitting on the couch and holding a gun in that very apartment, according to a probable cause affidavit filed in the case.
Mother: Garrion did not shoot himself
Relatives told police after Garrion's death the boy must have found a weapon in his apartment and accidentally shot himself, but the Lake County coroner's office later ruled his death a homicide and the investigation continued.
East Chicago police said in June they had been suspicious about inconsistent statements given during the investigation into Garrion's death. The boy suffered a gunshot wound to the neck.
Police were dispatched May 11 to the 3500 block of Guthrie Street for a report of an assault with firearm. Garrion's mother said she was awakened by a noise in the living room, where Garrion had been watching television and Delgado-Gonzalez had allegedly been sleeping on the couch.
The child was found lying on the floor on his back, bleeding from the mouth, not far from the couch where Delgado-Gonzalez had been sleeping, court records show. When the mother's boyfriend tried to wake Garrion up, Delgado-Gonzalez allegedly stirred awake and asked what happened.
Garrion's mother told police she did not believe her son could have shot himself. 
Police located a .45 caliber semiautomatic handgun on a pile of clothes across from the couch. A spent shell casing was found stuck in the gun. 
A computer check showed the weapon used was registered to a person out of South Bend. Police called the person's guardian and she said the gun had been missing for about three years, but no one reported it stolen.
The boy's mother told police Garrion "had never touched a real gun" and that she did not allow weapons in her house, according to court records. 
Police: Uncle said he was asleep, high
Asked about that night, Delgado-Gonzalez initially told police in an interview he had been in "a (marijuana) coma," and offered no explanation as to why there was a bullet hole in the couch where he was sleeping, court records show. 
No casings or bullets were recovered from Garrion's body or during a search of the residence, but the couch where Delgado-Gonzalez had been sleeping had damage to the left arm rest consistent with a bullet ricochet.
A red blood smear was located on the right side back cushion of the couch, court records show. A second blood smear was found on the carpet in front of the couch closest to the damaged armrest.
Garrion's body was found not far from the couch.
There was no indication that a projectile hit the floor where the blood stain was located, and the only indication of a trajectory of the bullet is the damaged left arm rest of the couch.
Based on the wound tract and damage to Garrion's right cheek, the weapon "would have been held against his right cheek in a downward position," the affidavit stated.
Instagram photos discredit uncle's claim
Delgado-Gonzalez submitted to a gun residue test, which was positive, and then told police he would only talk with an attorney present, according to court records.
Delgado-Gonzalez allegedly later agreed to be interviewed without his attorney, but still denied owning a gun despite police showing him Instagram photos of him holding a gun in that same apartment. A stress test conducted on Delgado-Gonzalez "showed deception," court records show.
Bloomington, Illinois, police said Delgado-Gonzalez was arrested Dec. 17 in Normal and booked into the McLean County Jail about 3 a.m., The (Bloomington) Pantagraph reported. The Normal Police Department, the U.S. Marshals Violent Fugitive Task Force and K-9 units from Bloomington and Normal assisted in the arrest.
The boy's uncle had been living there the past month, the mother said. 
Crime scene photos taken that night show cartoons were playing on the television.
An unpaid Pizza Hut tab and a friend request 30 years later: The story of how one woman reunited Chesterton High School grad with long-lost class ring
CHESTERTON — For more than 30 years, Tony Ello assumed his 1984 high school class ring was lost forever.
Then came a Facebook friend request this week from a Rolling Prairie woman named Donna Meyers.
She found his ring, she said. 
"As soon as I (got the message), I figured it was mine, right? Because how many people knew I lost a ring?" Ello, 51, of Chesterton, said Friday. 
Donna Meyers said she was clearing out items in her home last week when "out rolled this class ring" she had long forgotten about, and she decided to investigate.
Turning it over in her hand, the slightly tarnished class ring was decorated with a light blue stone imprinted with Chesterton High School's iconic Trojan symbol. Etched on one side was a bowling pin and ball and inside the ring was Ello's name. 
"I searched Facebook and found Tony (Ello) in less than a minute," Meyers said. "He was the first name that popped up for me."
For years, Ello assumed he probably misplaced it somewhere while visiting Tulsa, Oklahoma, for a bowling tournament in 1985 — a year after he bought his ring. 
"It was on that trip that I first remember not having it," Ello said.
He searched various cars, his house — even his parents' sump pump pit in the basement, thinking it somehow wound up there.
Finally, this week, Ello learned the true story of how he parted with his ring.
In the mid- to late-1980s, Ello came in as a customer at the Pizza Hut in Michigan City, where Meyers worked as a young waitress.
The young high school student apparently didn't have the cash to cover his whole tab, so he offered to leave his class ring with Meyers as collateral with the promise he would return with the rest of the money, Meyers recalled.
He never did, but Meyers held onto it — even keeping it in her purse for a few years, thinking he might come back for it, she said. 
"I had good intentions, leaving the ring ... But I really don't remember," Ello said. 
Ello and his wife met with Meyers Friday night at McAlister's Deli in Valparaiso where Meyers handed him a small holiday gift bag containing his long-lost class ring. To show his appreciation, Ello exchanged with her a Christmas card and gift.
Meyers said it's exciting to be able to return the ring to its rightful owner, especially after all these years. 
"You always hear these 'long-lost' stories," Meyers said. "It's neat to be a part of something like this."
"It's definitely cool," Ello said. "I never thought I'd see it again."
What's up with that? What's the deal with the giant flames emitting from ArcelorMittal Burns Harbor recently?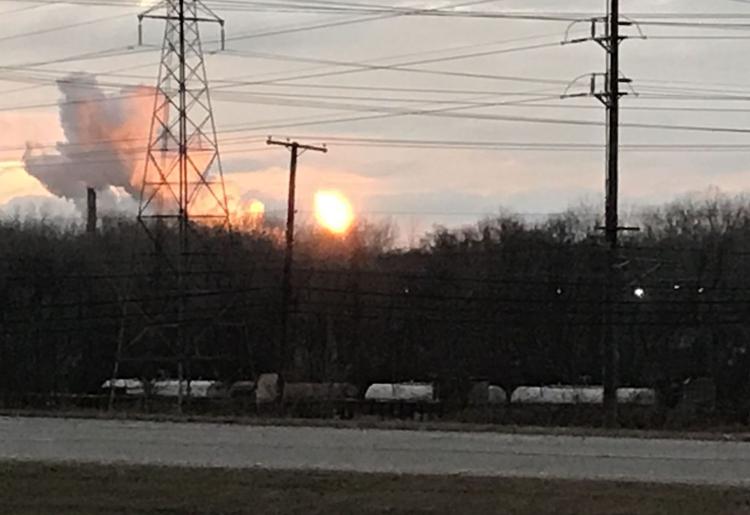 The "pilot light" of Northwest Indiana has been relit at the ArcelorMittal Burns Harbor plant, and its large bright flames are attracting attention.
But the eye-catching sight, which is visible for many miles, is only temporary, according to Mary Beth Holdford, division manager of external communications for ArcelorMittal.
"Over time, observers will see the flame diminish and eventually go out," she said.
The flames were brought to the attention of "What's up with that" by longtime Portage resident Sarah Smith. 
"I just recently noticed it, maybe a few months ago," she said. "As I am sure if you were to look in that direction, even as far as Valpo, you will see the bright orange glow."
Smith said she is concerned the bright glow will interfere with her stargazing.
"Maybe I dislike it so much because I am a sky watcher," she said. 'Maybe just because it's unnatural. In the past, I have seen the northern lights from here. That will never happen again as long as they are doing whatever it is they are doing."
Holdford said the flame in question is coming from a flare stack at the plant.
"The flare stack functions as a thermal-destruction pollution-control device and is operating temporarily while we work on significant upgrades to the facility's power station," she said.
"During a portion of these upgrades, we are unable to consume all of the coke-oven gas generated by our coke-making operations, and therefore, we have to 'flare' the raw gas before releasing it into the atmosphere.
"Once this portion of the power station investments are complete, which is expected to take several months, the ability to capture and recycle this valuable byproduct fuel will be restored," Holdford said.
"We have often referred to this flame as the 'pilot light' of Northwest Indiana, as it once served as a good indicator that iron and steel is being made in the Region," she said. "However, over time, the use of the flare has diminished as we have invested in technologies that allow us to capture those valuable byproducts and recycle them into new energy."
Holdford said observers also may notice "billowy clouds" coming out of the stacks around the plant. She said the sight is not smoke, but "harmless steam that results from hot metal coming into contact with water at various points of the steelmaking process."
St. John Family Express to feature a pet washing station like the one in Valparaiso
ST. JOHN — Family Express plans to roll out a new location at Parrish Avenue and U.S. 231 that will include a pet-washing station.
Officials for Family Express brought their initial plans for the fuel station and convenience store to the St. John Plan Commission during its recent study session meeting.
Family Express is planned for the southwest corner of the intersection and will include a car wash and a pet-washing station.
A similar pet-washing station was introduced at the new Family Express at the roundabout at Vale Park Road and Calumet Avenue on Valparaiso's north side last year, where officials said it's been "a big hit."
Plans for Family Express include improvements to the intersection, including the addition of a right-hand turn lane on Parrish into the store. A right in/right out only is planned along U.S. 231.