Here are the top 5 trending stories today. 
UPDATE: Police still searching for man last seen at Porter-Starke office in Valparaiso
VALPARAISO — Police were still searching Monday for a missing 59-year-old Valparaiso man who never returned home Saturday from Porter-Starke Services, a community mental health center. 
Donald Gildersleeve was last seen Saturday monring at the Valparaiso Porter-Starke offices at 10 a.m. Saturday, police said.
Valparaiso Police Sgt. Mike Grennes said Monday that Gildersleeve requires daily medications but has not yet been found. A statewide Silver Alert said Gildersleeve is believed to be in "extreme danger."
He lives on his own with the assistance of Porter-Starke Services. He is believed to be on foot or on a bicycle and is described by police as white, 6 feet tall, weighing 210 pounds, with brown hair, blue eyes and a beard.
Police and officials from Porter-Starke have searched nearby businesses and other locations.
If anyone sees him or believes they may have seen him recently, police ask that they contact the Valparaiso Police Department by dialing 911 or text a tip to TIP411 (219-847-411) and enter "Valpo" as the first word in the message field prior to sending the tip.
Gary's Will $crilla returns to hip hop after 17 years in prison
Willie Terrell Wallace took the stage Oct. 6 at Gary's Area 51, a welcome home celebration for the rapper who was convicted 15 years ago of voluntary manslaughter in the shooting death of Gerald Wrice in Hammond.
Wallace was paroled from prison May 19. He continued to write songs while incarcerated, drawing from his experiences behind bars.
"I kept my sponge wet," he said. "I always got my sponge wet from guys with knowledge."
Wallace, now 46, is grappling with his public image as he reboots his rap career.
He's in one breath the entrepreneurial son of a blue-collar mother – "a steel-toed-boot-type woman" – who rose to local fame in the late 1990s as the rapper Will $crilla and founder of record label Ignat/Sluefoot.
He's also "the voice of the streets" in Gary, not the booming steel town of the 1960s, but a city so awash in guns and drugs in the 1990s it became the nation's murder capital.
"By the time I was out of high school, I got into the street life," he said. "I graduated with a diploma. I went into the streets."
Those two images — the rapper and the gangster — collided at Wallace's murder trial.
Wrice, 20, was gunned down around midnight Sept. 14, 1999, during a street fight in Hammond's Maywood neighborhood.
Wrice was transported for multiple gunshot wounds to St. Margaret Hospital, where he allegedly identified Wallace as the shooter while on his death bed.
Wallace maintained at trial he and Wrice were locked in a wrestling match when two shots were fired, which caused him to run to a nearby relative's house.
Prosecutors alleged Wallace resorted to firearms after he was humiliated in a street fight with Wrice.
The jury found Wallace guilty of voluntary manslaughter.
Wallace maintains he didn't shoot Wrice, though he pointed out murder isn't the same as manslaughter, a crime committed in "sudden heat," without premeditation and driven by an intense emotion.
Wallace's status as a local rapper played a significant role at his trial. He was questioned on the witness stand about his profane and violent lyrics, as well as the AK-47 depicted in his record label's logo.
"Who I am in the recording studio has nothing to do with who I am as a person," Wallace testified.
Wallace maintains that's still the truth, but admits he's not a "fairly tale kind of guy."
Wallace was born in Chicago, but raised from age 4 in Gary. His mother was a blue collar worker in a chemical plant and his mother's boyfriend a steelworker who ran a mechanic's shop from the family garage.
He attended Williams Elementary and Pulaski Middle School, where he was first chair on tenor saxophone.
He said his interest in music started at 5 or 6, listening to the soul and pop music of the 1970s. At age 11, he became more interested in the "phonics" of language.
He was introduced to hip hop in the 1980s through Sugar Hill Gang, Run DMC, Fat Boys and LL Cool J. His own fledgling craft began during that same time period.
"In middle school, these people would call me up and ask me to rap for them," he said. "It was about the wittiest punchlines, it was about who made you laugh. We'd talk about dudes' shoes. It was a 'fight' or a 'duel.'"
He also began scraping together his allowance to buy records from shops on Broadway, which he used to DJ after-school parties.
"I was the guy with the milk crate of music," he said.
His first public performance as a rapper was at the now-defunct Chez Crouton, at 17th Avenue and Grant Street in Gary. He said it was a "euphoric" experience, that cemented his love for performance.
"I didn't have the butterflies," he said. "Some people might not believe that. The only fear I had was the fear of not being believable."
Rapping is storytelling for Wallace. In prison he kept up with hip hop through radio and magazines, and laments modern rap's reliance on glossy production and dance beats.
"A lot rappers now are mumble rappers," he said. "You can't make out what they're saying. They're not audible. It sounds good because the beats carry you — the beats make the production now."
That philosophy about music also explains his frustration with how he was portrayed by the prosecutors at trial. In Wallace's mind, he is a performer and Will $crilla is his role.
"I'm entertainment," he said. "Is it because I'm black, that I can't be a person different from who I played?"
But Wallace also insists he's not a "studio gangster," someone who just profited off the gangster persona.
Wallace said he graduated high school and moved out from his parent's home. He sold drugs, crack cocaine and marijuana, from 1989 to 1996 in Gary, which he called "The Murder Cap."
"What attracted me to it was it was glamorized," he said. "They were the guys that got the accolades."
He said poverty, gangs and a lack of education were other factors that drove him and others into drug dealing. 
"There were skating rinks, and Boys and Girls clubs, but they didn't prepare you for anything," he said about Gary. "They facilitated amusement. Nothing prepared you for moving forward in your life."
In 1997, he began performing as Will $crilla. He incorporated Ignat/Sluefoot in 1999. That same year he was featured on a compilation album released by Laidback Records and Concord Affiliated. He also appeared in "Live and Die in G.I.," a video about the rap scene in Gary, and formed The Grind Family, a rap super group representing The Region. 
"That's when I took off," he said.
The original members of The Grind Family were Will $crilla and Soope (now Soope Da Roadrunna) from Gary, Ric Jilla from Hammond, and COB, C-Ghetto and Whissit Ave. from East Chicago.  
The group released the album "In The Grind We Trust, Vol. 1," in 1999. 
Wallace said he was always entrepreneurial. He cut grass and packed boxes at the corner liquor store as a child to get pocket money. He said those same skills made him successful as an adult, both in rap and dope dealing.
"I made a lot of money," he said, adding later. "I had an accountant named Sherry. I lived in a $250,000 house."
All that was lost when he was sentenced in April 2002 to 35 years prison for Wrice's killing. He also faced an additional 4 ¼ years in prison for a federal firearm offense filed three days after the shooting of Wrice.
He continued to work while incarcerated. He obtained a drum machine and keyboards, and estimated he wrote about 500 songs in prison.
"I had guys who were around me who helped me, he said. "I learned a lot. I came across people from all walks of life, from millionaires to the poor, the educated, the crafty, the religious."
Wallace obtained two associate's degrees, in general science and business management, and become a licensed landscaper through the Indiana Department of Labor. He also converted to Islam. 
Wallace remained a popular local rap figure despite, or perhaps, because of the crime.
A clip from "Live or Die in G.I.," which features Wallace rising from a casket holding fistfuls of cash before launching into "Photo Album," has more than 65,000 views on Youtube. A music video for a new song by Wallace, called "Ghost from the Gutter," was published Aug. 9 on Youtube. It already has more than 27,000 views.
"I'm blessed," he said about his longtime fans. "I get a lot of love."
Wallace has relaunched his rap career, beginning with a show Sept. 3 at Club Limelight in Indianapolis. He's also created a Facebook page, using the moniker Gary Dios, to sell merchandise and promote upcoming projects, including a new album, "I/E," or intellect over emotion. 
Three artists are currently represented by Ignat/Sluefoot — Isaiah "Slimmattic" Griffin, 30, Aaron "Shotta" Nevils, 30, and Roxanne "Roxsy Love" Tucker, 28. 
He said Soope Da Roadrunna, a member of the Grind Family, flew from New York with recording and video equipment to help get him restarted.
"I'm still a poster boy of the streets," he said. "I can't escape that if I wanted to. That's my legacy. But it's not just about where I began — it's about where I end up."
Born from industry, demand for housing, Portage turns 50 years old
PORTAGE — More than a half century ago, the town of Portage was in its infancy.
Incorporated from the villages of Crisman, Garyton and McCool and surrounding farm land in 1959, the fledgling town was facing growth beyond what officials could have imagined a decade before. Portage moved to city status Jan. 1, 1968.
National Steel was building its Midwest facility on the shores of Lake Michigan. The State of Indiana's deep water port was under construction next door and Bethlehem Steel was constructing its newest facility just over the town's borders in the neighboring new town of Burns Harbor.
It was the new industry that prompted residents in the northwest corner of Porter County to incorporate into a town. They were concerned that nearby Gary or Valparaiso might try to annex the land.
And it was the industry and residential growth that prompted the town's early officials to quickly explore changing the town's status to that of a city.
The industry meant jobs, and new residents were flocking to the Region.
Between 1959 and 1967, the Portage Township Schools constructed a new middle school and five elementary schools to educate the population which skyrocketed from 2,116 in 1950 to 11,822 in 1960, according to the book "Portage Township" by Dennis Norman and James Wright.
Early recollections
Virginia Thomas and her family moved to Portage in 1958.
"We bought a model home in Northwood subdivision," she recalled recently, adding she and her husband and children had been living in the Knox area of Starke County.
"On one of the trips bringing a load of stuff up, Walt Slanger was moving his cattle across Central Avenue," Thomas said of those early days.
Sammie Maletta said he and his family moved from Gary to Portage in 1963. It wasn't something he initially wanted to do, he said.
"I really didn't want to move out into the country," he said. "The corner of Willowcreek and Central was all still farmland except for the new high school on the corner."
Changing status
Thomas recalls the day William Suarez knocked on her door.
"He was politicking and wanted me to run for city clerk," she said, adding Suarez knew she had worked in both the auditor's and treasurer's offices in Starke County and was working at the license bureau in Portage at the time.
Town officials had begun talking about changing status the year before and, with the idea approved, the city was slated to hold its first elections in 1967.
Both she and Maletta said it was the growth that prompted the change.
"The town was growing. Some people thought it was time to move to the different form of government," Maletta said. 
"If we went for a city, we could get more federal money for sewers. The Jaycees ran the campaign to become a city," said Thomas, a Democrat, who eventually agreed with Suarez' request and became the city's first clerk-treasurer. Suarez would become the city's first city judge.
Most of the city was operating on wells and septic tanks, Maletta said. 
"A lot of people came from Pennsylvania and were drawn here because of Bethlehem Steel. That started the housing boom in Portage," said Maletta, a Democrat, who filled the final six months of Johnny Lawson's term on the first city council, then went on to serve 16 more years on the council before serving as mayor for 12 years.
Early days: Busy, but fun
Thomas, who would serve two terms as clerk-treasurer before running unsuccessfully for mayor in 1975 against Robert Goin, said the city spent $40 million on that initial sanitary sewer project. When her clerk's office couldn't handle the additional work, she helped create a separate sanitary department.
"The streets were torn up. Mailboxes were knocked down. City hall wasn't even done and my office was at the police station. But, the sewers really brought in the businesses to the city. Once the sewers went in, they really went to town," Thomas said. 
Thomas also recalled the city purchasing the land that is now Woodland Park and developing the property.
"It was a busy time, and it was one of the most wonderful times in my life," she said.
"That City Council we had, they were the most honest men I knew in my life. They never asked me to do anything that wasn't kosher," said Thomas, who also served two years as Portage Township Trustee, filling out John Williams' term when he was elected mayor in 1980 and then returned to work as the secretary-treasurer of the sanitary department until her retirement in 1988.
"It was kind of a fun time. The old (Portage) mall was the place to be at that time in the city," said Maletta, who during his own terms as mayor created the city's redevelopment commission and began the vision for the development/redevelopment of the city's downtown.
Woman in 'Children for Sale' photo and brother still searching for answers
Two siblings tied to a historic photo of a woman and her children — behind a sign advertising "4 Children for Sale Inquire Within" — continue to search for answers nearly 70 years later.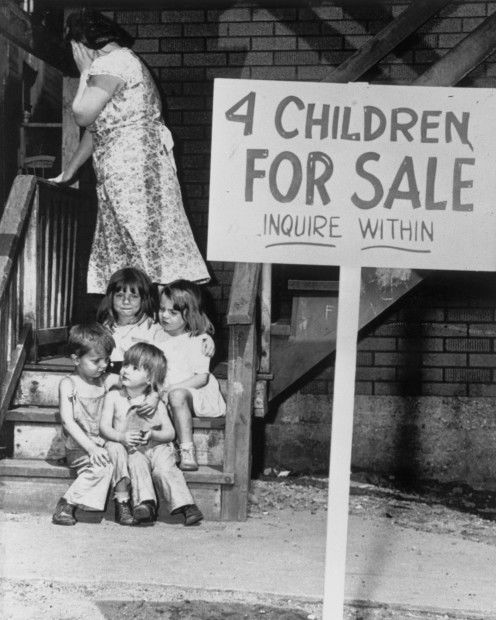 RaeAnn Mills, of Washington, Indiana, was one of the four children on the stoop of the Chicago home of Ray and Lucille Chalifoux where the family lived in August 1948. The children in front of Lucille Chalifoux, 24, on that stoop included Lana, 6, RaeAnn, 5, Milton 4, and Sue Ellen, 2. One other child, born Bedford Chalifoux, was born in September 1949.
The picture was published in The Vidette-Messenger, of Valparaiso, on Aug. 5, 1948, as well as various other newspapers around the country. A story several days later in the Chicago Heights Star stated a Chicago Heights woman offered to open her home to the children and that offers of jobs, homes and financial assistance poured in.
Within two years of the photo being taken — which some family members believe was staged — the siblings went in different directions. Bedford Chalifoux was only 9 months old when he was adopted by Harry and Luella McDaniel and renamed David McDaniel.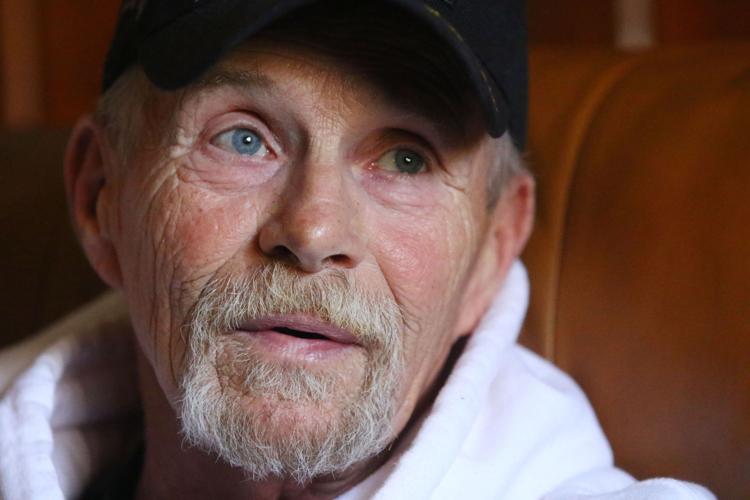 DIFFERENT LIVES
In June 2013, The Times wrote about what happened to some of the children. Several weeks ago, The Times spoke again to the two surviving Chalifoux siblings — Mills and David McDaniel.
While Mills, 74, and McDaniel, 68, ended up with families only a couple of miles apart in Jasper County, Indiana, they had much different experiences growing up in the 1950s.  
Mills and Milton Chalifoux told The Times in the 2013 article that their life with the late John and Ruth Zoeteman on a DeMotte farm was one of abuse and being treated as forced laborers. The two siblings were renamed Beverly and Kenneth Zoeteman after being taken in by the couple. They would use those names with each other for the rest of their lives.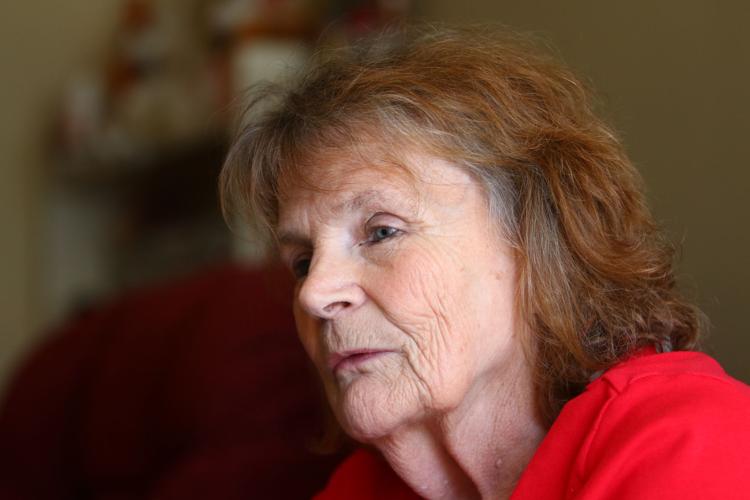 Unlike McDaniel, who has adoption papers showing he was adopted, Milton Chalifoux told The Times that the Zoetemans were considered foster parents to him and his sister.
McDaniel doesn't recall exactly when his adoptive parents told him he was related to Milton and RaeAnn, other than it was before he was a teen. Mills said McDaniel was the one who then told her and Milton that he was their brother. 
McDaniel remembers later going over to the Zoeteman home and finding his brother and sister tied up in the barn. After releasing them, McDaniel recalls how he was followed to his home by John Zoeteman. McDaniel's adopted father ended up stopping a possible confrontation between the young boy and the older man, he said.
McDaniel said that unlike his two siblings, he had a good childhood growing up in the small community of Kersey. McDaniel said he was a bit rebellious, though, and thought his adoptive father was overly religious. He left home when he was about 16½ and drifted a bit before eventually joining the military. 
Despite leaving as a teen, McDaniel retained fond memories of the area and in August 2016, he moved to Wheatfield — about 5 miles from where he grew up — after reconnecting with a childhood sweetheart. He said he enjoys spending much of his leisure time these days fishing.
"It was a good place to be raised," he said of the small community.
FORGIVENESS AND BITTERNESS
While McDaniel is forgiving of his birth mother who gave him up for adoption, he continues to harbor hard feelings toward his birth father.
Reflecting on his birth mother's decision to give up the children, McDaniel asked, "What are you supposed to do? Your husband leaves you, you don't have a job and you're getting ready to be thrown out of your apartment; what are you supposed to do? And my opinion was, she was thinking about us kids."
McDaniel used an unflattering epithet to describe his birth father. "I mean, what father is going to father five children and then turn around and abandon them?"
He said he didn't know much about his father until later in life. Records that McDaniel gave to The Times earlier showed his birth mother was on public aid for several years and her husband abandoned her and the family. His birth father, according to the records, did "not return home because of a criminal record against him in Cook County, Illinois."
Still, McDaniel would like to know more about his father's life after he left the family. He wants to know whether his birth father fathered other children when he moved to New Jersey.
"I may have siblings out there, stepbrother or stepsister," he said. "It would be nice to know."
Mills feels differently than McDaniel when it comes to their birth father. She recalls that her birth mother told her their father had died when she was young, but Mills said their father actually was still alive when they were given away.
Mills, who believed she was named for her father, Ray, said she wanted to take her original name back for his sake.
COMING BACK TOGETHER
McDaniel has been busy reconnecting with family the past few years. He traveled to Tucson, Arizona, to visit Milton Chalifoux on his brother's 70th birthday, and talked to him daily until Milton Chalifoux died in December 2016. He also paid for Mills to come visit him in August 2013, when he lived in Roy, Washington.
"It was really good," Mills said of that visit. She stayed a week and visited various attractions in the area.
McDaniel's girlfriend, Bonnie Darner Dunlap, currently has a granddaughter who goes to Vincennes University, in Vincennes, Indiana, not far from where Mills lives with her family. When the pair go to visit her, McDaniel said he takes his sister, her husband and her son, Lance Gray, out to dinner.
Gray said it has been nice to get to know McDaniel, and it has led to an increased sense of belonging for him. Growing up, Gray noted, he was envious of others who had large families.
Mills and her son also briefly reunited with her sister, Sue Ellen Chalifoux, of Hammond, a couple of months before she died in July 2013. She was the fourth of the five siblings born to Ray and Lucille Chalifoux, and three years younger than Mills. McDaniel said he did not get to see Sue Ellen in person, but was able to speak with her before she died.
During her trip to see McDaniel in 2013, Mills also said she met with a daughter of their older sister, Lana, who died in 1997. Mills said the niece, Nancy, who lives in Vancouver, Washington, told her that "all my mom talked about was finding you before she died."
Mills said she still keeps in touch with that niece along with another daughter of her oldest sister. She also still has the last message that her brother, Milton Chalifoux, left her before he died, which ends with loving words. 
"That's the last words I heard from him: 'Love you, Beverly,'" she said of her brother.
THE SEARCH FOR A DAUGHTER
Mills is hoping that she can fill another void by locating the daughter she was forced to give up years ago.
Mills recounted to The Times in 2013 how she was kidnapped, raped and got pregnant in her late teens. She was sent to Michigan to a home for unwed mothers, Mills said, and then brought the baby girl back to DeMotte.
Although the Zoetemans initially said she could keep the baby, Mills said, they eventually arranged for someone to take the child when the baby was 6 months old.
"That was my little girl and I wanted to keep her. Because, you know, my mother gave us away, and that is something I had on my own that I could love, but they took that away, too," she said. Mills was 17 years old at the time.
Her daughter would be 57 now. With the help of her son, McDaniel and his girlfriend, Mills continues to look for her. They have reached a dead end, but have not given up hope. 
"It hurts me everyday that I don't have my baby," Mills said.
Mills left the Zoetemans home after her baby was taken away, and she never went back. She remembers reconnecting briefly with her birth mother years later, who remarried and had a second family, but that reunion did not end well. She has not stayed in touch with her four stepsisters.McDaniel, however, said he has developed a close relationship with one of the stepsisters.
McDaniel said he has mixed emotions about the earlier Times story detailing what happened to him and his siblings, because some of his stepsisters were hurt by it, he said. Perhaps, he speculated, he could have had a relationship with more of them if not for that story, and he does not want to cause any more pain.
"I don't want to hurt nobody's feelings, that's the thing," he said. "I'm too old to lose family."
Felony booking process in Indiana now includes taking of DNA sample
INDIANAPOLIS — Starting today, individuals arrested for a felony crime in Indiana will have a DNA sample taken during the booking process, in addition to the traditional mugshot photograph, fingerprint record and the collecting of other personal data.
A law signed in April by Republican Gov. Eric Holcomb made Indiana the 31st state in the country to require alleged felons provide a cheek swab DNA sample for the state's Combined DNA Index System (CODIS), which generally is available to law enforcement throughout the country.
Previously, Indiana only entered a DNA sample into CODIS after a person was convicted of a felony.
Supporters of the law say being able to compare the DNA record of a person arrested for a serious crime with DNA evidence from unsolved crimes will help law enforcement and prosecutors identify criminal perpetrators and win convictions in court.
"Since serious criminals often go on to commit numerous additional crimes before they are caught and convicted, the collection of DNA upon felony arrest will save lives," said state Sen. Erin Houchin, R-Salem, a sponsor of Senate Enrolled Act 322.
State Sen. Joe Zakas, R-Granger, another sponsor of the law, said DNA sampling of felony arrestees also could help exonerate the innocent.
"This bill should improve our criminal justice system in a substantial way," Zakas said. "I look forward to seeing the success this law will have."
Opponents of the measure, including state Sen. Mike Young, R-Indianapolis, suggested it runs afoul of 4th Amendment protections against illegal police searches because an arrestee's DNA record will be used for investigatory purposes, not just identification.
"This is no different than the government coming in your house looking for evidence to see if there's anything laying around that they might be able to put together to find out you committed another crime. There is no difference," Young said.
"Why can't we just do it the right way and get a warrant?" he asked.
The statute provides a process to remove a DNA sample from the database upon request of a person arrested for a felony who either is not convicted, convicted of a misdemeanor instead of a felony, the felony charges are dismissed or if the person never is charged.
It also seeks to prevent mass felony arrests on trumped up charges in an effort to create a statewide DNA database by prohibiting DNA samples from being shipped from county jails to state police laboratories unless a judge agrees there was probable cause for arrest.
At the same time, Indiana law states that an arrest or conviction based on a database match is not invalidated even if a court determines the DNA sample was obtained or entered in the Indiana DNA database by mistake.
The law requiring DNA sampling upon felony arrest was approved 36-13 by the Senate and 84-13 in the House. Both chambers are Republican-controlled.
State Sen. Eddie Melton, D-Merrillville, and state Sen. Lonnie Randolph, D-East Chicago, were the only Northwest Indiana lawmakers to vote against the measure.