The 5 stories you need to know today: East Chicago man accused of robbing elderly women, breaking one of their arms, in Highland restaurant parking lot
Here are the top 5 stories you need to know today. 
East Chicago man accused of robbing elderly women, breaking one of their arms, in Highland restaurant parking lot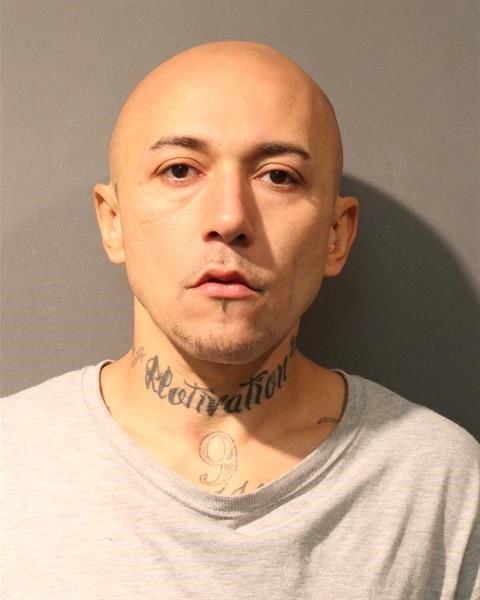 An East Chicago man was in custody Tuesday on charges alleging he broke a woman's arm last month while robbing her and her sister of a purse outside a Highland restaurant.
Vincen J. Velez, 40, is accused of approaching the women Oct. 25 in the parking lot at the Round the Clock restaurant in the 9000 block of Indianapolis Boulevard and demanding a purse.
The women, ages 73 and 74, told police Velez appeared to be holding a gun inside his jacket. One woman said he threatened to shoot her as he attempted to grab her purse, Lake Criminal Court records show.
The woman's sister stepped in, and Velez knocked them to the ground, a probable cause affidavit stated. The 73-year-old woman later was treated at Community Hospital because her arm was fractured in the fall.
One of the sisters told police Velez got into a white SUV-type vehicle with a partial Illinois plate of "A37." 
Highland police later learned Munster police were investigating a similar strong-arm robbery that occurred Oct. 28 at Commander restaurant on Ridge Road. A similar vehicle description and partial plate was given in the Munster case, the affidavit said.
Munster police identified the owner of a 2002 Mercury Village van, and Hammond police stopped the van the night of Oct. 28. Velez was a passenger in the van at the time, the affidavit stated.
On Oct. 31, police executed a search warrant for the van and found a black stocking cap and plastic toy gun wrapped entirely in electrical tape to resemble a handgun, court records stated.
Munster police are pursuing charges against Velez in their case, Lt. Ed Strbjak said.
Police: Medical condition likely caused driver to hit Dyer restaurant
DYER — A 72-year-old Chesterton driver struck the Pop's Beef restaurant on U.S. 30 early Tuesday after suffering a medical emergency, police said.
Dyer police were dispatched at 4:18 a.m. to the 1400 block of Joliet Street, Police Chief Dave Hein said.
The Chesterton man was taken by ambulance to a hospital with non-life-threatening injuries, he said.
The exterior of the building sustained minor damage, police said.
MARC CHASE: Woman goes to work an only child, learns of 11 siblings by lunch
Crown Point's Peggy Parkinson searched three decades in vain for a sister she never met — an unrequited reminder of sibling lives separated by adoption.
Sherri Lynn, who grew up in Lowell and now lives in Denver, knew adoption had sent her on a different path since birth, but never really questioned who, how or why.
That is until Lynn, on a whim at work in December 2016, learned the details of a new family reality with a few keyboard strokes on her computer.
The story of the sisters Parkinson, 47, and Lynn, 48, is a powerful reminder this National Adoption Month of the bright chance at life that adoption presents in otherwise dark moments.
But their tale also is a touching reminder of the gravitational pull that can exist between siblings across miles and decades, even when one doesn't know of the other's existence.
How it started
Parkinson grew up with a keen, painful awareness of her own adoption story.
A pattern of neglect by her biological mother meant Parkison spent most of her childhood in the care of her maternal grandparents, eventually being adopted by them at the age of 14.
That pattern included a time when her mother left Parkinson, then 5, and a younger sister behind during a trip to Brookfield Zoo, outside of Chicago.
It encompassed abusive relationships and countless other heartaches Parkinson doesn't care to relive.
Despite that heartache, Parkinson said she was raised in her grandparents' — eventual adoptive parents' — loving home in Schererville, graduating from Lake Central High School.
Lynn, born a year before Parkinson to the same biological mother and father, was spared that heartache by her own adoption story.
At birth, Lynn was dropped off at a house in Griffith, into the arms of an adoption arranged by the doctor who delivered her.
Lynn would be raised in Lowell, also by loving parents, before moving from Northwest Indiana to Colorado at age 9.
Growing up, Parkinson had heard of the older sister she never knew, who'd been dropped off with an adoptive family in Griffith.
In Lowell and then Colorado, Lynn said, she always knew she'd been adopted, as well.
But she knew little about her biological parents and nothing of Parkinson.
The search
Parkinson's search to find her older sister began more than 30 years ago when she was in her early teens.
It can be a particularly insatiable thirst among those who know of, but have never met, biological parents or siblings.
For Parkinson, a quest to quench that thirst led to years going through genealogical records, making trips to Griffith homes believed to have been the drop-off point for her older sister and several other dead-ends.
"This was always a big hole for me," Parkinson told me during a recent visit at her Hammond office, where she works for the South Shore Convention and Visitors Authority.
"I always wanted to know but could never quite find her."
As it turns out, Lynn, who spent most of her life searching for no one, would do the finding.
Scratching an itch
It was Dec. 15, 2016.
Lynn entered her Denver office building in the morning, generally content with her life but feeling a certain familial itch that needed scratching.
For some time, Lynn had been wanting to learn more about her biological mother. Mostly, she wanted to track down a photo.
"I really always knew I was adopted but had no curiosity growing up," Lynn said. "I never really asked questions."
But on this day, Lynn would sign into Ancestry.com, an online site of largely genealogical records that has helped countless people unlock the mysteries of their lineage.
Her biological mother's name had been communicated to her later in life. Running it through Ancestry revealed a Northwest Indiana obituary for her birth mom, complete with a name of surviving relatives.
Among those names was a woman listed as an aunt: Peggy Parkinson.
Lynn said she began searching that name on Facebook and was stunned to find a woman bearing that name, whose features looked a lot like herself.
Lynn then scratched her own curious itch, sending Parkinson a note via Facebook Messenger.
11 siblings by noon
As Lynn fired off her Facebook message from Colorado, Parkinson was sitting down to lunch in her Hammond office.
"It came up as an IM message and a Facebook request," Parkinson said. "I saw the picture of the person sending it, and the hair stood up on the back of my neck.
"At that point, I just knew."
The Facebook messaging led to phone calls between the two, and ultimately Parkinson explained to Lynn that she actually was her sister, not her aunt as the obituary stated.
Parkinson's adoption by both women's maternal grandparents led to the confusion.
"We chatted for a bit, and I was freaking out," Parkinson said. "My sister, who I'd been searching for over three decades, had found me."
If Parkinson was shocked, Lynn was overwhelmed.
"I was bored at work, and all I really was looking for was a photo of my birth mother," Lynn said.
That boredom led to a return message from Parkinson that read:
"If you were born in 1969, you are who I've been looking for my entire life," Lynn recalled of the message.
"My heart just literally jumped out of my chest."
Parkinson had known about Lynn's existence her entire life. But Lynn learned in subsequent communication that she had a host of siblings of whom she previously had no knowledge.
"I woke up that day an only child," Lynn said. "By lunch, I had 11 siblings."
Meeting amid tragedy
Following several phone calls, the newfound sisters decided to meet during a fall trip Lynn had planned with her fiance to Las Vegas.
On Oct. 1, Parkinson arrived early at the hotel restaurant that would serve as the arranged meeting place over lunch.
"I told a waitress there what I was doing and who I was meeting," Parkinson said. "She agreed to take video with my cellphone when the meeting occurred."
The video shows emotional greetings, smiles and embraces between the women — but also, perhaps, a hint of uncomfortable newness attached to any new meeting in which parties hope to forge a meaningful relationship.
The two celebrated their first meeting with a cake provided by the hotel, with the words "Happy Reunion!!!" written in chocolate syrup on the perimeter of the plate.
Later that night, the jubilation and gravity of their first in-person meeting would be interrupted by even bigger historical gravity, Parkinson said.
That evening, a gunman opened fire on a concert crowd, killing 58 and injuring more than 500 people, just a few miles away from the hotel where the sisters first met.
Parkinson and Lynn would spend four days together in Vegas, amid the chaotic backdrop of the worst recorded mass shooting in modern U.S. history.
Moving forward
Though those circumstances were sobering, the sisters continue to grow their relationship.
From the four days spent in Vegas, texting and phone calls, the sisters say they're finding many personality traits in common.
"We have our differences, too, of course, but we both appear to be stubborn, opinionated and bullheaded," Parkinson told me recently.
"I've had similar surgeries to Peggy, and we have a lot of the same features," Lynn said. "After 48 years, I have a sister. It's wonderful, but it's also a lot to process.
"For most of our childhoods, we lived in the same state and area. Now, halfway through our lives, if we're lucky, we have met. It's awesome."
The next in-person meeting is set.
Lynn is scheduled to be married on Labor Day 2018, and Parkinson plans to be there.
Both women said they cherish the respective love they found through their individual adoptions.
Parkinson hopes their story provides hope to others in search of birth parents or siblings that such efforts aren't always in vain.
Now Parkinson and Lynn have the rest of their lives to grow seeds left dormant by life circumstances.
Hammond, Hobart voters support referendums
The School City of Hobart and the School City of Hammond both passed their referendum questions on the ballot Tuesday night.
Both school districts can now move ahead with building new schools, renovating schools and maintaining their teaching staff.
Lake County Election officials completed the count shortly before 8:30 p.m.
The School City of Hammond had better than 50 percent yes votes to both questions. Both districts were able to turn out the vote with teachers in their respective districts also encouraging voters to say yes.
The School City of Hobart passed both questions for — operating and construction — by wide margins, nearly 70 percent each.
After the vote Tuesday night, Hammond schools superintendent Walter Watkins said by email, "It's the children of Hammond who win."
The School City of Hammond, the largest school system in Northwest Indiana with 13,000-plus students, asked voters for the authority to borrow $110.6 million for the construction of a new high school and some upgrades to other buildings, along with $70 million for operational costs.
The new high school will be built behind the current Hammond High School on Calumet Avenue
Watkins has said the district has suffered a reduction in funding from the state, state-mandated tax caps, increased costs for health care and continued increases in energy and fuel costs.
Reached after the vote, Hobart schools superintendent Peggy Buffington said, "We are happy for our Brickies and thankful for the support we have been given. Quality schools are important to every community. Our solutions were tax neutral which offered a plan to keep our assets protected and be fiscally responsible. We have so much gratitude for the dedication provided for our kids. It is simply the best."
Buffington has emphasized the two referendum questions would not involve a tax rate increase. She said interest rates are relatively low at this time for construction, and the district would avoid future inflation for construction rates.
The district will raise $41.2 million for the construction referendum. The money will be used to build a new elementary school to replace Ridge View Elementary, which is 62 years old, a swimming pool at the high school and upgrades at other schools, including replacing some boilers.
The tax rate impact is neutral for this capital project. That's because taxpayers already are paying for the new high school, which has been refinanced, saving the district millions of dollars.
The operating referendum will allow the district to raise $2 million a year for six years beginning in 2020.
Valpo defense holds off KV in girls hoops
VALPARAISO — Aleah Ferngren is a sophomore whose energy Valparaiso girls hoops coach Candy Wilson has been waiting to unleash.
All over the court Tuesday night against Kankakee Valley, Ferngren quickly picked up a steal here, then dished the ball away for an assist.
An electric guard, she helped pace a defense that held K.V. to nine points in the first quarter and without a point for the first half of the fourth quarter. The Vikings picked up their second straight win over a Northwest Crossroads Conference team with a 63-45 victory.
"We wanted to try to shut them out (of shooting)," Ferngren said. "We practiced our defense, and we wanted to pack it inside a lot."
Ferngren had eight steals, five assists and 12 points for the Vikings (2-0), who beat Hobart by 58 points on Nov. 2.
"She has mad, mad energy," Wilson said. "She does a lot of great things. She's matured a lot and become a great player."
Ari Gerdt added three assists and three steals to go with her 10 points and Taelynn Oelling had 13 points for Valpo.
"This was a total team effort," Wilson said.