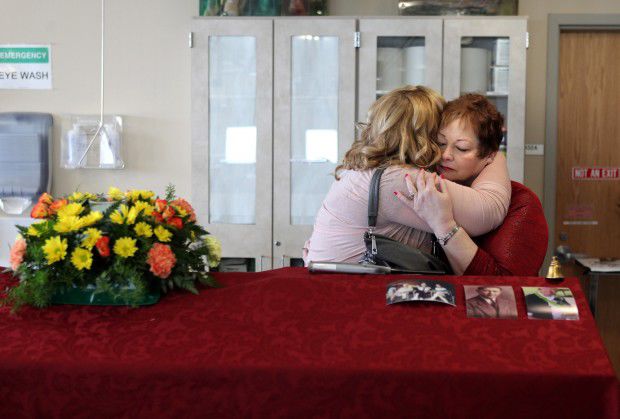 Lindsey Ellingsen said her mom, Sue, always has been the type to do for others. Now Sue needs some help of her own.
Last year, a diabetes medication the Munster woman was taking caused her kidneys to fail. She started dialysis, which she's been doing three times a week ever since.
She needs a kidney transplant. But in order to get on the waiting list for a donor, she says, she needs $20,000.
Her family is holding a fundraiser for her Sunday in Schererville and started a fundraising page for her on Help Hope Live, a nonprofit that helps people in need of transplants raise money for their care. Any unused dollars go to other transplant recipients.
"My mom is literally the kindest hearted person you'll meet in your life," said Ellingsen, of Crown Point. "It's hard to watch her not have the energy to do things she used to be able to do. She's not able to chase around her grandkids and play with them at the park like she used to. With a transplant, we hope she can return to a normal way of life."
More than 100,000 Americans are on a waiting list for a kidney transplant, according to government statistics. The average recipient has to wait 3.6 years.
Before Sue Ellingsen can get on her preferred waiting list, though, she has to prove she has enough money to cover her portion of the transplant costs, including the anti-rejection drug she would have to take for the rest of her life.
Ellingsen, 62, had to leave her job as an instructional assistant in the Munster school system because of her health problems. She misses it.
"One of my passions is seeing kids grow up, know how to read and have meaningful lives," she said. "We try to show them to be kind, contributing human beings. That is a wonderful experience."
She also enjoys watching her own grandkids mature. She has four, with a fifth on the way.
"I feel like I have a lot of years left," she said. "It's broken my heart to see people die within months of being on dialysis. I've got a lot of life ahead of me. I have a grandbaby coming and a daughter getting married and want to be with my grandkids as much as I can."
Her sister is willing to be a donor and plans to do testing to see if she's a match. If she's not, the two can do a paired kidney donation with another couple who are not compatible.
"I have a lot of faith in God and I'm very strong in my faith, and I know God is with me through this endeavor and I know it'll happen," Ellingsen said. "I plan on surviving and thriving."