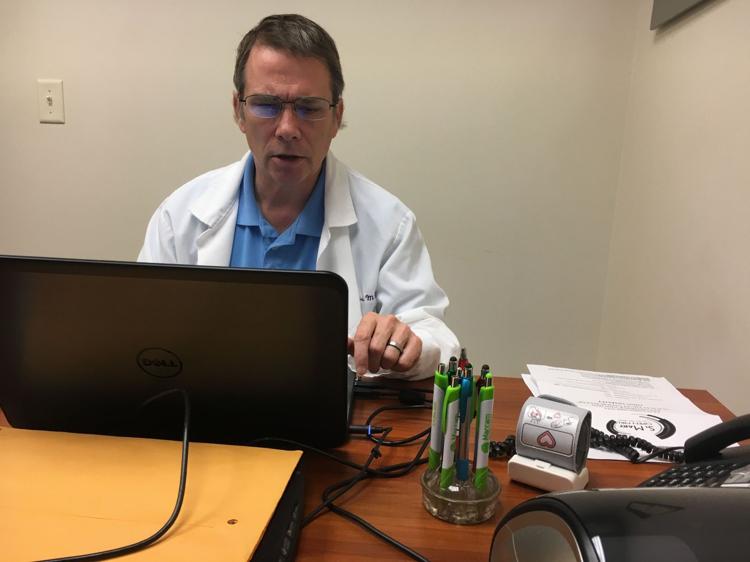 PORTAGE — A few months ago, Dr. Timothy Ames thought his idea to start a direct primary care practice, where he doesn't accept insurance and charges a monthly subscription for unlimited appointments, had run its course.
But then The Times profiled him earlier this month. The story went viral, garnering hundreds of thousands of pageviews and becoming one of the most read articles at nwi.com. Ames got calls from around the country from people wanting to become patients or just learn more about the concept.
Now he believes the time for direct primary care has come, particularly with Congress discussing legislation that could affect the health care coverage of millions of Americans.
"With the events of the past six months, people have a lot more anxiety about the availability of health insurance in the future," Ames said at his office, which is located in the Porter-Starke Services building in Portage. "What are we going to do to provide people with care if the insurance system breaks down?"
Ames' solution is to charge a monthly fee for patients to have as many visits as they need — in person, by phone, text or email (his cellphone rang and dinged nearly nonstop during a recent interview with The Times). He doesn't take insurance — public or private — and is his own secretary and medical assistant. The lack of administrative burdens allows him to give his patients more attention, he says.
"Often people really like their physicians but hate the process of getting care," he said. "We've achieved a perfect outcome of everyone being perfectly unhappy."
Ames, who ran a traditional practice for 25 years, doesn't have to deal with insurance networks and prior authorizations and co-pays. He says his model is also viable at a time when many people have high-deductible plans and thus pay much of their health care costs out of pocket.
"I think people are now coming to the point of being dissatisfied with trying to take a problematic economic system, which is health insurance, and fix it through a number of patches," he said. "I think the response to the article is an illustration of that."
Direct primary care, also known as subscription medicine, is a small but growing part of the medical system. Roughly 3 percent of family doctors practice direct primary care, according to the American Academy of Family Physicians.
"People are realizing the old system cannot be meaningfully repaired," Ames said. "We have to think about how to do things fundamentally differently."
Ames, who may bring on a medical assistant to meet the increased demand, isn't under the illusion that his model can fix the health care system. But he says direct primary care is an option for people with little to no insurance and who need chronic disease management. He said consumers also want health care price transparency, which is nearly impossible to find.
"I consider it a goal to make what I'm doing unremarkable, to make it a normal way to practice," he said.