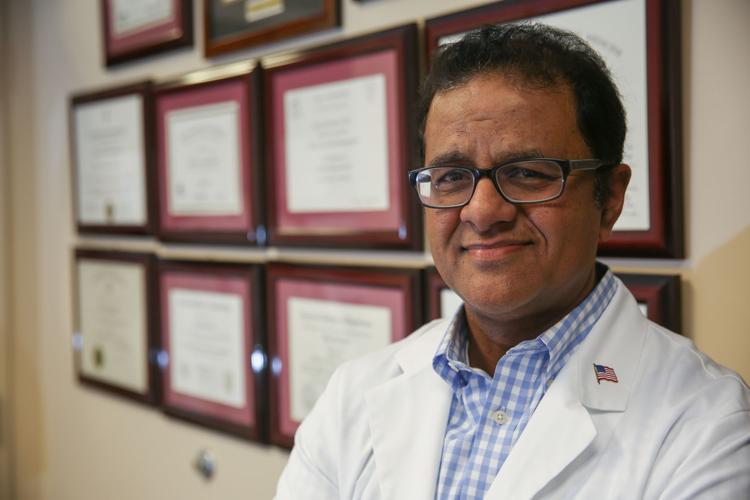 In July, a 48-year-old man confronted his wife's physician, Dr. Todd Graham, in the parking lot of Graham's office in Mishawaka. The man was upset the doctor wouldn't prescribe her painkillers.
After a brief argument, he shot Graham, 56, twice in the head, killing him. The man later killed himself, according to a report in the South Bend Tribune.
In response, pain doctors in Northwest Indiana are coming together to determine how best to protect themselves in the midst of a growing epidemic of opioid abuse in America.
"We treat people at the risk of being physically abused or even killed," Dr. Shaun Kondamuri, a Munster pain specialist, said at a recent forum in Merrillville on doctor safety.
Kondamuri, who knew Graham personally, noted that pain doctors are at increased risk lately because they are being encouraged to prescribe fewer painkillers, raising the potential of unhappy patients. A new Indiana law limits new painkiller prescriptions to seven days. Physicians in the state are also encouraged to administer drug tests to painkiller patients to make sure they're using the medications properly.
"We face the wrath of the legitimate patient who is denied medication he truly needs," he said.
He said primary care providers are increasingly referring pain patients, particularly the more problematic ones, to specialists like himself.
"The focus on slowing the tide of opioid abuse has left many doctors reluctant to prescribe opioid medications at all," Kondamuri said. "We're fearful we're doing something wrong."
He said it's an almost daily occurrence in his specialty for patients to become angry or verbally abusive. Threats of gun violence aren't unheard of. Health care workers, he noted, are twice as likely to be assaulted than other workers, with nurses the most common victims, according to the Bureau of Labor Statistics.
Dr. Sheel Patel, of the Centers for Pain Control in Munster, told the story of a pain patient who wasn't following the clinic's orders so staff decided to discharge him. The man became belligerent, he said.
An employee notified authorities, and the practice filed a restraining order with the Munster Police Department. Munster police increased patrols around the clinic.
"You all have to be aware and prepare — have a plan," said Lt. Edward Strbjak of the Munster Police Department. "I was involved in a shooting (recently) and I'm in podunk Munster. If it's happening in Munster, it's happening anywhere in the world."
If someone is acting irate or even suspiciously, call the police, Strbjak said. If a person makes a threat, file a police report, he said.
"You have to be prepared at all times: to run, to hide, to fight," he said.
Kondamuri said pain clinics can also get trained in aggression de-escalation, flag problem patients, ban firearms in the office, increase staff to reduce wait times, encourage employees to report incidents without fear of retribution by management and install security cameras, metal detectors and panic buttons.
"Everyone should be free and safe from violence in the workplace," he said.