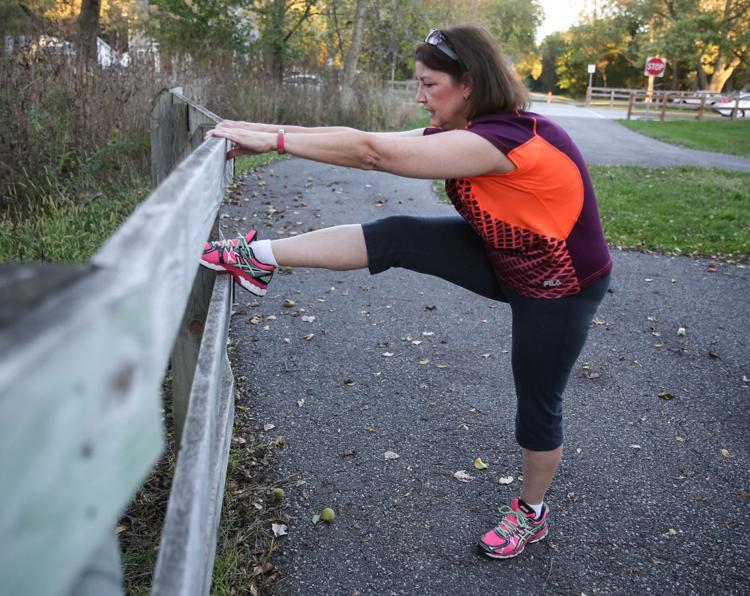 Darin Bensinger doesn't believe he could have completed a 5K a year ago.
He weighed roughly 275 pounds and wasn't very physically active.
But since entering The Times' Lose 17 in '17 contest at the beginning of the year, he has dropped 60 pounds and works out five days a week.
He completed a 5K last month, alongside his wife, Julie, who was participating in her first 5K. And it was the first he had done in several years.
"We ran a good majority of it. Before this year, we wouldn't have. It would have been a lot of walking," said Bensinger, 35, an accountant who lives in Munster. "I tried to let her finish first. I think she stopped so I could cross. I even tried to nudge her."
The Bensingers took part in the Franciscan Health Fitness Centers Anyone Can Do A 5K with three of their fellow Lose 17 in '17 contestants: Barb Coggins, Jim Sharp and Barb Swanson. The contest's 17 participants have lost 400 pounds so far in 2017.
Jane Bogordos, exercise physiologist and wellness supervisor at Franciscan Omni Health & Fitness in Schererville, said participating in events like 5Ks, bike races or color runs are great for people trying to lose or keep off weight. She said doing so increases motivation, keeps people accountable to training, gives them a feeling of accomplishment and is just plain fun.
"By signing up and training for a race, you are creating new experiences that will help the internal shift for continued success that last well beyond the event itself," she said. "Also, many communities host charitable events or fundraisers, so not only are you helping improve your health when participating, you are helping others as well."
Swanson, a 69-year-old contestant from Schererville, did a 5K last year. During last month's Anyone Can Do A 5K, she improved on her time by 12 minutes. She credits all the physical activity she's done in 2017 as part of The Times' contest.
"I do treadmill running about five times a week, and I have all year long," she said. "The fact that I've done as much treadmill running as I have has built up my strength and speed."
She ran the entire race. She plans to do a 10K next.
"I've never been a competitive athlete," she said. "I grew up in a world where girls didn't have much in the way of competitive sports available. It's really kind of fun, even though I'm just competing against myself. I set goals and accomplish them."
Coggins, a 53-year-old contestant who lives in Valparaiso, used to run half-marathons but hasn't done a race in years. So she surprised herself in finishing the Anyone Can Do A 5K in a little more than 37 minutes. That experience has since inspired her to participate in more races.
"I did another 5K this past weekend at the Lake County Fairgrounds," she said. "Then next weekend, I'm doing the Hot Chocolate (5K) in Chicago."
For Sharp, 52, a Lose 17 in '17 participant from Crown Point, last month's 5K was his first. He walked most of the race to ease his way into it but plans to do more 5Ks next year.
"It was wasn't as hard as I thought it was going to be, but it was still a little difficult," he said. "It was a good boost that got me going again as far as a healthy lifestyle."