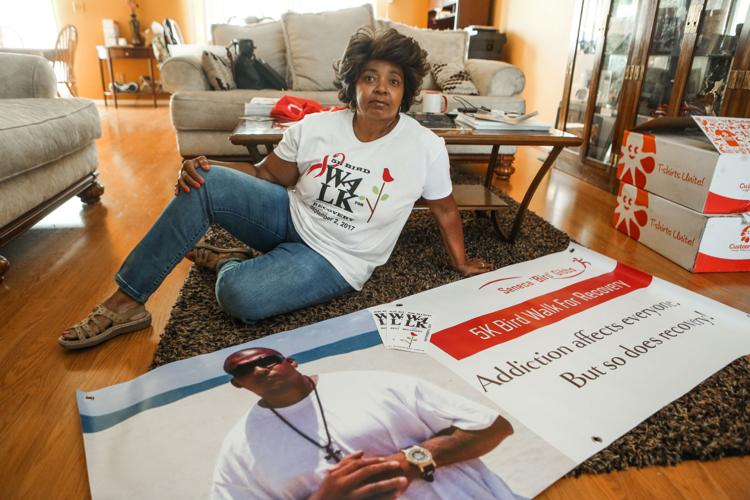 CROWN POINT — A month before his death, Seneca Gibbs' mother asked if he wanted to go to treatment for his drug use.
"Mom, I'm going to die an addict," he told her.
"I was taken aback," Sylvia Gibbs recalled, on her son's "angel-versary," two years to the day Seneca succumbed to his drug addiction.
Seneca Gibbs was addicted to heroin since the mid-2000s, trying various treatments and shuffling in and out of rehab. He died Aug. 22, 2015, from hypertensive heart disease, believed to be caused by years of substance use. He was 34.
Afterward, Sylvia was approached by loved ones and acquaintances telling her their personal or family stories of addiction. She had no idea so many people were dealing with the same thing. She wants to change that.
On Saturday, she is hosting the second annual 5K Bird Walk for Recovery ("Bird" was Seneca's nickname). She hopes to reduce the stigma often attached to addiction, so more people will voice their stories and, in the process, assist others.
"It's the best kept secret and it's killing us," Sylvia Gibbs said. "If I had cancer or am diabetic, I'm not afraid to share. If my son or daughter has a substance abuse problem, I don't want to tell anybody. Then how am I going to get help?"
Seneca Gibbs was the baby of the family. He was creative from an early age. He taught himself to draw.
He studied graphic arts in college, and used his skills to make T-shirts for people's charity events. His art was his therapy.
"He liked to play pranks on his brothers and sisters," recalled sister Angel Watson, of Crown Point. "He loved to laugh, and he had a beautiful smile, and everyone loved that about him."
He began smoking weed as a teenager, experimenting with drugs throughout his adolescence. Eventually, he became addicted to heroin. 
When he started having children, in his early 20s, he decided to get help. He would complete rehab but then return home and get mixed up with the same friends. He tried methadone and buprenorphine, to no avail. He once got clean but then got injured and prescribed painkillers.
He had his longest period of sobriety at the Salvation Army Adult Rehabilitation Center, a free treatment facility in Gary for men that puts them to work. Sylvia Gibbs is donating the proceeds from the walk to that agency.
Seneca was also bipolar. His mother said mental illness is another taboo subject, particularly in the black community, where a common response to emotional anguish is to "pray about it."
"It seems like it's more accepted to do drugs than go to counseling," Watson said. "Nobody gets together with their friends to go to counseling."
Unlike many faces of the addiction crisis, Seneca didn't die of an overdose.
"The obvious health crises people think about with addiction are death by overdose and problems with liver function," said Belinda Hubert, medical director of Heartland Recovery Center in Lowell.
"Of course those are very real and can lead to death, but what most people don't know is that all our internal organs are negatively affected by substance abuse — especially the brain, liver, kidneys, lungs, heart and nervous system."
Addiction a disease like any other
On a recent day at home, Sylvia showed off some of her son's artwork. One drawing shows Jesus with a cross on his shoulder, carrying humanity's burdens. Another depicts a hand holding a dove, about to fly away.
"This one is addiction, I would say," she said, pointing to a drawing of a man whose face was melting off.
During a trip to Georgia in summer 2015, Seneca told his mom he didn't think he would survive his addiction. His sister believes he wanted his mother to realize she did everything she could, that his drug use wasn't her fault.
It taught Sylvia Gibbs that addiction is a disease like any other.
"Some people survive recovery, and some don't," she said. "Some people survive cancer, and some don't. Some people survive diabetes, and some don't. None of us gets out of this alive."
"A lot of people think that going into recovery is 30 days and then they're recovered," noted Valerie Thorn, executive director of Recovery Works Merrillville, a 42-bed detox and residential facility. "The recovery piece of it is a lifelong piece."
It's also a way — besides death or incarceration — out of addiction.
"People talk about addiction more than recovery," Sylvia Gibbs said. "If they talked more about recovery than addiction, they'd know that recovery is possible."