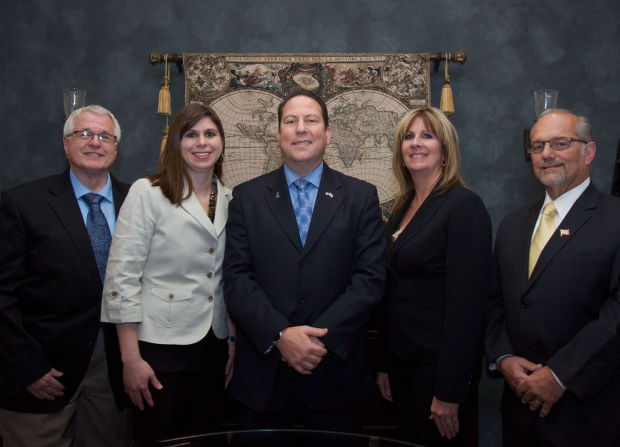 Portraying author C. S. Lewis in the 1994 biographical film Shadowlands, Anthony Hopkins proclaimed, "Experience is a brutal teacher, but you learn fast."
That brutal teacher changed the course of John Amatulli's life at a very young age.
"I was fortunate to make some respectable money playing professional racquetball when I was 18 to 20 years old," he explained. "I invested it with an adviser and lost it all from his lack of staying on top of things as well as the high level of risk he chose. Let's just say that experience inspired me to go to college."
As a student at Indiana University's School of Business, Amatulli found his natural love of numbers to be a great fit with the concepts, tools and technologies in finance. After graduating, it wasn't long before a close friend introduced him to the professional adviser world where his past experience and current academic achievements came together to provide a solid foundation for what is now a successful 23-year career.
"My goal is to give people peace of mind and comfort in their retirement years with their investments and their income," he said. "I want my clients to sleep well at night knowing their retirement nest egg will be there for them."
A conservative adviser, Amatulli is also a member of the Indiana Better Business Bureau's Board of Directors, where he strives to ensure all Hoosier businesses are operating ethically.
"A lot of people have lost a lot of money close to retirement because their money was at risk. I believe risk should come down as you get older," he explained. "Depending on your retirement goals, you may even want to start putting more away – sacrifice a bit today for tomorrow - if the goal is to not work your whole life."
Because no two clients are ever alike, Amatulli & Associates Financial Services is devoted to tailoring all their suggestions to meet the unique desires and wishes of each individual. That process starts with a careful analysis of the amounts of bills and money you have.
"We do it all – anything involved with financial planning from A to Z - but we only recommend the things that are best for each individual client," Amatulli explained. "Our focus is on helping business owners and baby boomers - retirees or near retirees – grow their income, pay less taxes and create a strong financial legacy for their loved ones."
A St. John resident, Amatulli operates offices in St. John and Rolling Meadows, Ill. serving clients who live throughout Northwest Indiana and the Chicagoland area – with a few who have migrated to popular retirement destinations such as Florida and Arizona.
From cash management and investing to estates and trusts, retirement and tax planning, insurance and risk management, Amatulli & Associates stays on top of the latest facts, figures, legislation and economic trends. Then, they listen carefully to each individual client's needs so they can be effective partners when it comes to developing the very best strategy for meeting those goals now and in the future.
"We are passionately committed to service, and realize that we achieve far more as a team than as individuals," Amatulli added. "Trust and honesty are essential, and you can count on us to do what we say we will do. Our goal is to provide the best possible investment and risk management consulting services to a diverse clientele of investors. As part of that process, we are constantly reviewing opportunities and issues as they relate to different life-stage needs."
Throughout his career, Amatulli has been an invited speaker at financial industry events nationwide as well as an expert resource for local reporters with recent segments airing on Fox News regarding retirement planning and health insurance plus Lakeshore Public TV for tax tips. He is also a Certified Financial Educator.
"In my role as a financial adviser, I consider myself a teacher, educating my clients on the various financial and retirement solutions that can be used to meet their needs, goals and vision," he said. "As a small business owner in my industry, I consider it an honor to be able to give back by traveling around the country to speak at conventions, teaching other financial advisers in the industry – especially those just getting started – on how to conduct their business."
With the memory of his own personal experience always driving him to help clients prepare for and enjoy a comfortable retirement, Amatulli has a keen eye for determining if they can afford to retire, reviewing the safety of their funds, looking at various money-saving tax scenarios and preparing for the effects of long-term illness.
"Our clients benefit from immediate and constant contact with a team of financial professionals dedicated to answering all their questions, evaluating their financial goals and creating a customized retirement plan that addresses their individual needs," he added. "We're committed to providing that personal approach to financial planning our clients truly value. Taking care of our client base is what's most rewarding for me as a business owner and a financial adviser. Each and every referral we receive shows me we are doing a great job, and last year was our best referral year ever."
While Amatulli firmly believes that referral business is a great measure of customer satisfaction, the fact that he was recognized in 2012 by Aviva Life Insurance Company as one of the top three financial advisers in the country when it comes to customer satisfaction was a tremendous milestone in his career.
"Being recognized with a national customer satisfaction award where real clients were polled was certainly a proud moment in my career," he said. "That recognition was very rewarding, however it's the daily touches with my clients that's most rewarding for me – helping them grow and protect the assets they've been working hard all their lives to earn so they can enjoy a worry-free retirement."

Ivy Tech Chancellor Thomas G. Coley's vision for could not be any more certain or his mission more clear. Ivy Tech gives students the skills and training necessary to get a not only a job, but a career path. Every program at Ivy Tech, Dr. Coley explains, is directed towards achieving an affordable post-secondary educational credential, whether that leads to a degree from a four-year college or provides a second chance for students who have been out of school for a long time.
Ivy Tech's involvement often starts at the high school level by offering students the opportunity to work for credit that provides a gateway to a future career in nursing and health sciences, one of Ivy Tech's strong areas. For students who are challenged in math and have found that to be a barrier when looking for a job, Ivy Tech can provide the type of targeted education needed.
Enrollment at the school is fluid, as the Chancellor says, with growth coming through multiple entry and exits by students who are building lives and livelihoods in Northwest Indiana. A student may come into an eight-week session in electronics or mechanical welding, and then that student may opt into another session and eventually complete a technical certificate in 40 weeks.
"Whether you are looking to advance in the company you are working in or maintain employment, we are giving them the skill set the employers want them to have and the critical thinking skills. We teach our students how to be effective in today's workplace," he says, "You know what kind of training you will get and that it's the kind of training that makes them most valuable to employers."
Dr. Coley, who has been Chancellor of Ivy Tech's North Region, encompassing campuses in the northwest and central parts of the state, since December 2012, cites Ivy Tech's increasingly proactive approach in structuring programs for students that make sense for the whole community. Enrollment at Ivy Tech remains at record high levels across the state and Chancellor Coley is working at building partnerships with other schools as well as employers in Northwest Indiana.
"Internally we are working very hard to make sure that students complete the program. We also look at how we structure our programs instructionally, what courses need to be taken, always making sure that our programs have the quality of technology in the classroom that is immediately transferable to the workplace. All the pieces connect."
Ivy Tech is "big on data and metrics," the Chancellor explains. "We are going to be held accountable on being cost-effective for students by meeting their educational objectives. We have to demonstrate with metrics that Ivy Tech is valuable not only to students, but as a resource in your community in terms of financial well-being and career advancement."
Over the past 18 months, Chancellor Coley has been focused internally on merging the structure of two regions, while communicating externally about a broadened mission. Visibility and accountability is increasing, Dr. Coley says, because there has never been greater emphasis on the colleges' participation. "We are seeking support, building relationships and partnerships. We are focused more on the students we are not reaching, the students at risk. It is just a much bigger picture and a bigger playing field. More outreach and connections with the community are the future. If your education ended with high school you don't have a future."