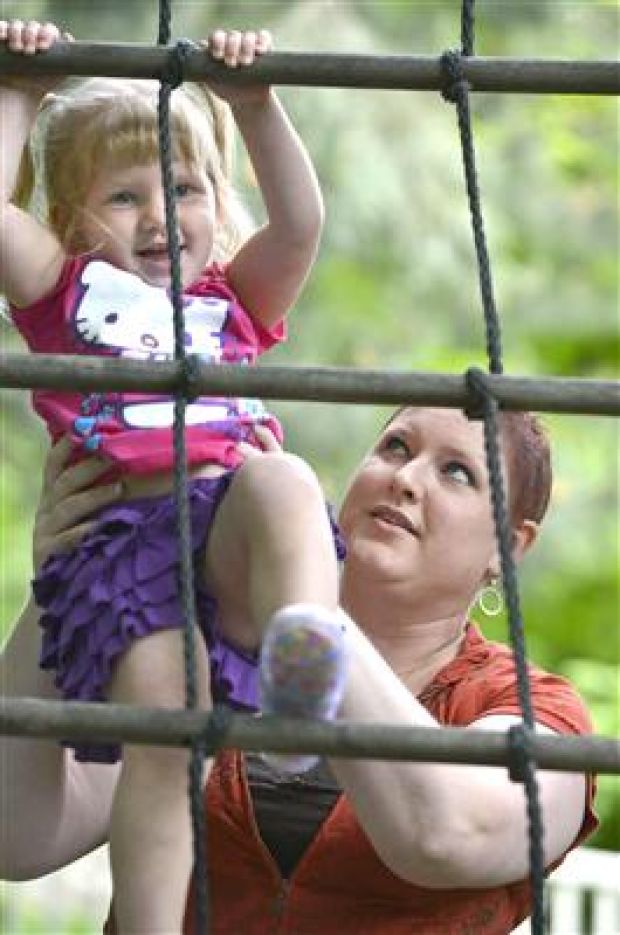 Women with a faulty breast cancer gene might face a greater chance of rare but deadly uterine tumors despite having their ovaries removed to lower their main cancer risks, doctors reported at a conference last month.
A study of nearly 300 women with bad BRCA1 genes found four cases of aggressive uterine cancers years after they had preventive surgery to remove their ovaries. That rate is 26 times greater than expected.
"One can happen. Two all of a sudden raises eyebrows," and four is highly suspicious, according to the physician who did the study, Dr. Noah Kauff of Memorial Sloan Kettering Cancer Center in New York.
His study, reported at a cancer conference in March in Florida, is the first to make this link. Although it's not enough evidence to change practice now, doctors say women with these gene mutations should be told of the results and consider having their uterus removed along with their ovaries.
"It's important for women to have that information ... but I think it's too early to strongly recommend to patients that they undergo a hysterectomy" until more research confirms the finding, said Dr. Karen Lu, a specialist in women's cancers at MD Anderson Cancer Center in Houston. She plans to study similar patients at her own hospital, the nation's largest cancer center, to see if they, too, have higher uterine cancer risks.
About 1 in 400 women in the U.S., and more of eastern European descent, have faulty BRCA1 or BRCA2 genes that greatly raise their risks for breast and ovarian cancer. Doctors advise them to be screened early and often for breast cancer, and to have their ovaries out as soon as they have finished having children to help prevent ovarian and breast cancer, because ovarian hormones affect breast cancer as well.
But the role of BRCA genes in uterine cancer isn't known, as Kauff says. His study looked at 1,200 women diagnosed with BRCA gene mutations since 1995 at Sloan Kettering. Doctors were able to track 525 of them for many years after they had surgery that removed their ovaries but left the uterus intact.
The vast majority of uterine cancers are low-risk types usually cured with surgery alone. Aggressive forms account for only 10 to 15 percent of cases but more than half of uterine cancer deaths.
Researchers were alarmed to see four of these cases among the 296 women with BRCA1 mutations. None were seen in women with BRCA2 mutations. Last year, the actress Angelina Jolie revealed she had preventive surgery to remove both breasts because of a BRCA1 mutation. Her mother had breast cancer and died of ovarian cancer, and her maternal grandmother also had ovarian cancer.

A recent large-scale study conducted by researchers in Finland says that being married and cohabiting – especially among middle-aged couples – is associated with considerable better prognosis of acute cardiac events.
In short, marriage is good for your heart.
The study was published in the European Journal of Preventive Cardiology and based on nearly 10 years of register data. The information driving the study included more than 15,000 acute cardiac syndrome events, with more than half resulting in death within 28 days.
Among this group, mortality rates were found to be 60 to 168 percent higher in unmarried men, and 71 to 175 percent higher in unmarried women.
So what exactly is the connection between marriage and the heart's ability to recover from a major event? Study researchers offered the following explanations.
Overall Health
Married couples may have a heart advantage because of their health habits and social connectivity to other married couples like them.
Seniors are urged to find and acquaint themselves with other seniors. This social interaction can pay large dividends in all types of health, including mental, emotional and physical.
Early Intervention
Researchers hypothesized that married couples may be more likely than unmarried people to seek medical assistance in the case of a health issue.
A recent study agrees. It was conducted by the University of Missouri Department of Human Development and Family Studies and found that if spouses understand their partners' disease and treatment requirements, both people's health could improve.
Better Care
Married people may seek better treatment once in the hospital and after discharge. The study found that a larger proportion of married and cohabiting men received specialized therapy at acute stage.
This intervention has been known to contribute to better survival after hospitalization. Lower adherence to aspirin, statins or beta-blockers among the unmarried may have an adverse effect on long-term prognosis, the researchers claim.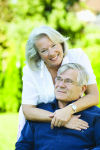 Spending time outdoors during pleasant, sunny weather is a pastime enjoyed by many. New research finds that it also may be vital to senior health.
The vitamins and health benefits provided by the sun are important for everyone to receive, especially the senior population.
And while medical professionals know that sun exposure is crucial for elders, specific recommendations for just how much are hard to pin down.
Skin types, time of day and geographic location all play a role in determining an optimum amount for each individual. Consult with your physician to find out what would work best for your body.
Vitamin D
The Vitamin D Council recommends that on days that you do not get enough full body sun exposure that you take a supplement to help keep your levels high.
You can also give your body a boost by eating Vitamin-D rich foods, like fatty fish, beef liver, egg yolks and fortified cereals. The council, however, urges people not to depend on food alone for their vitamin D intake.
Eye Health
The British Journal of Ophthalmology recently found that elders may have both a higher need for natural light and a harder time getting it compared to younger people.
This can lead to the lack of blue light from the sun, which usually helps the brain produce melatonin to regulate the body's sleep-wake cycles.
This eye issue can lead to insomnia and other medical problems that can be major factors in conditions like depression and heart disease.
Don't Overdo It
Spending too much time outdoors without protection from the sun's ultraviolet (UV) light can be damaging to the eyes and skin.
Seniors are also susceptible to overheating or dehydration in warm conditions, so use your judgment when you're trying to take advantage of the sunlight.
Avoid extremely hot and humid days that can drain your energy. On days you do go outside, drink plenty of water and mix in a few breaks inside instead of spending hours working in the garden without breaks for rest or hydration.