RSSProfiles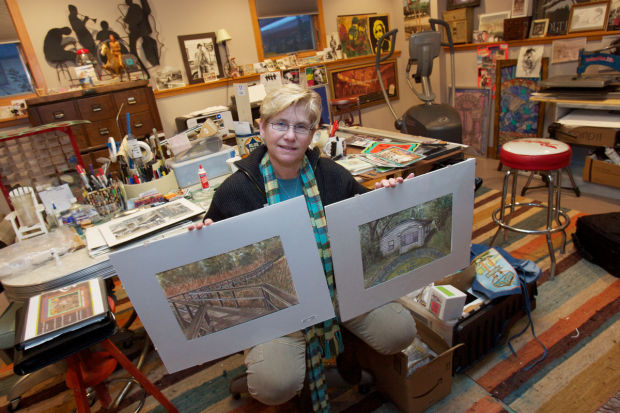 Before Leslie Green started living the dream, she was in the rat race with the rest of us.
"Driving to Stickney at 5 a.m. every weekend morning on the road hugging the lakeshore, I'd think 'I don't want to be here,'" she recalls. "'I want to be in Miller painting.'"
But Green was earning good money with great benefits as a union trade painter and leaving that to pursue fine arts in Miller Beach, where she had lived as a child, required not only commitment to her craft, but courage.
"It was a crazy thing but I was just drawn to being back here," she says. "When I was young the dunes were my sanctuary."
At the time she was living in Northbrook with her partner Linda Levi, a psychotherapist with offices in Chicago and Park Ridge. So besides leaving her job Leslie would also have to convince Levi that a move to the east side of Gary—a city lacking the cache of Chicago's North Shore suburbs—was a great idea.
It turned out Miller Beach had its own special appeal.
"I took Linda here and she fell in love with the area," says Green. "She raised her sons in Northbrook and was looking for a change."
Art was Green's passion when she was young, but life, as it often does, took her down different paths. After high school, Green attended the Art Institute of Chicago on a full scholarship but left before earning her degree.
"I guess I didn't have much of a basis for how do you make a living as an artist," she says. Over the years, Green supported herself not only as an artist and painter but also by working in art supply stores and head shops, walking dogs and delivering messages by bicycle. "And that's when my father got sick." But her artistic nature "never fully left me," she explains.
And so at age 36, Green returned to school, attending the American Academy of Art which she describes as "this very old conservative French school of art."
Then life intervened again and she left her marriage. That change necessitated a paying job, so Green was sidetracked again, though not completely. She found work doing decorative and industrial painting on such projects including restoration of The Auditorium Theatre, the grand 1920 former cinema in Chicago known for its opulent interior spaces inspired by the regal Rococo style of Versailles. Another project involved a Frank Lloyd Wright home in Wisconsin and Green also painted signage for Trader Joe's grocery stores in Chicago.
Now she and Levi live a block off the beach in a wonderful box-like house with big windows and the perfect space for Green's studio—a warm, cozy place crammed with antique and hand-painted furniture, shelves filled with art books, her paintings, boxes filled with tubes of paints and brushes, computers, printers and photos of family, friends, favorite places and the sign for her father's Buy Low Fish Market in Gary.
In this stage of her career, Green's skills continues to emerge and she finds herself retracing her Miller Beach roots by photographing decades-old signage and turning the pictures into art.
She photographed and painted the sign from her Uncle Mickey's discount furniture store at 15th and Broadway in Gary. The building is empty but the neon and bulb ghost sign reading, "Michael's Norman Furniture" remains. So does the signage for Pumps on 12 in Beverly Shores, Pink Pussycat Lounge on Broadway in the Glen Park area and Dom & Pete's Point View Bar still standing on US Hwy 12-20.
"I did a watercolor of the Point View Bar and sold it to Dom's grandson," says Green who then took the image and used it on different substrates—the primary underlying material on which her art is overlaid— such as puzzles, satchel bags, metal and ties.
Green says her search for heritage signage was initially inspired by the classic sign in front of Ono's & Jo's, a pizza and sandwich shop in business just steps away from the beach on Lake Street in Miller for almost 60 years.
"It's a wonderful sign and a great place for pizza," she says about the place where she ate decades ago when she first lived in Miller.
But her art work isn't confined just to a few mediums. Green also creates posters, metal art, painted furniture and turns her work, through digital printing, into images for cups, coasters, t-shirts, license plates, phone covers, ball caps, car magnets and knitted caps.
She also designs what she calls "stained glass-effect mosaics". The creation of these stained glass lookalikes began when Green was still in the trades. She uses found objects—discarded pieces of Plexiglas, glass and old window frames coated with an acrylic glaze—to put together beautifully designed and colorful windows, also custom signs and furniture in different sizes. Green is also working on logos for the City of Gary, Miller Beach and the Dunes.
Some of her work is available in stores including the Lake Street Gallery and Indie Indie Bang! Bang!, a boutique home, fashion and gift shop, both on Lake Street in Miller Beach. Her work can also be seen on her website, lesliegreenstudio.com, and by appointment at her gallery.
"When I was in the trades and knew I was going to be leaving, I hired an art professor to critique my work," Green remembers. "She said I was going to have to pick just one medium. I obviously didn't do that."

PUBLISHER'S LETTER
As a relative newcomer, I'm still awed by the power and the beauty of Lake Michigan.
The business advantage of living so close to the lake is something I completely understand, but it's the aesthetic value, while more difficult to measure, that has the real impact on people who live here.
In the last two months I have had some amazing and unique Chicago experiences including meeting former Mayor Richard Daley, going to my first Chicago Bulls game at the United Center and attending a fundraising dinner with more than 1000 people in the Grand Ballroom with the 80-foot-high ceiling and an outdoor balcony at the end of Navy Pier. While I never expected those who have lived in the area a long time, or perhaps all their lives, to be infected by the same wide-eyed enthusiasm that I feel, I was amazed to find so many who can't wait to show and tell me about everything wonderful here.
That energy and wonder extends beyond the city limits to the national and state lakeshore parks, the port and industrial complex spreads over three Indiana counties recently revitalized by the Marquette Plan and the whole of southwestern Michigan wine country that includes as much culture as agriculture. The beach towns and college towns that I am learning about are cultivating their own grassroots institutions like the non-profit artists co-op in New Buffalo, the expanded educational programs at Fernwood, the Acorn theater in Three Oaks and the revitalization of Benton Harbor from the downtown arts and entertainment district to the construction of a new high-rise hotel at the center of the Harbor Shores development.
Now fully relocated, I look forward to investigating the lakeshore to the east at closer range. I missed the splendor of harvest season in the Michigan appellations, but I am warming to the idea of exploring the great restaurants, craft breweries, luxury hotels, spas and casinos, while they aren't as crowded as the summer months.
May your holidays be a source of joy and blessings for you and your families this year. This December/January issue is our anniversary edition. Shore has been around for eight years now. Even our replica edition is ripening. We started posting Shore in 2009 and continue to enjoy a steady stream of readers and subscribers to our twice-weekly e-newsletters.
I'm looking forward to 2014 and an even deeper focus on our Shore market and its thriving, growing and unique audience.
Chris White
Publisher
FACEBOOK, TWITTER, LINKEDIN
Chris White
Publisher
FACEBOOK, TWITTER, LINKEDIN