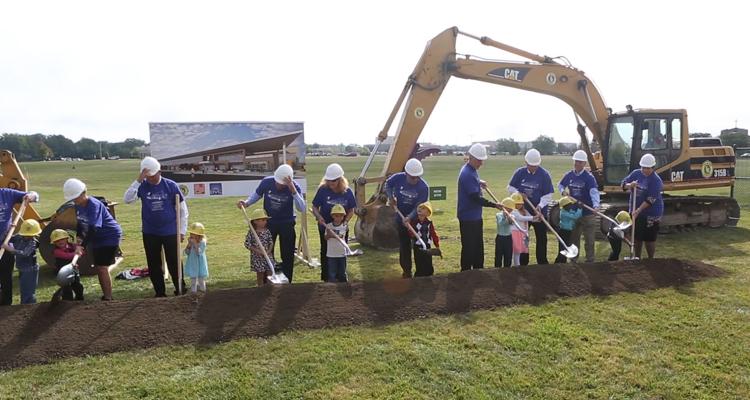 The next time you drive by a McColly Real Estate office or billboard, you might look at it a bit differently. Not only does McColly Real Estate help people buy and sell homes, but it also helps the Northwest Indiana community and the Region.
Locally owned McColly gives back to the 19 communities in which it has offices via the McColly Foundation. "If you look at the list on our website of the charities that the McColly Foundation supports, it's amazing. Just recently, our founder Ron McColly donated $100,000 on behalf of the McColly Foundation for the construction of the Southlake YMCA expansion being built in Crown Point," said George Kepchar Jr., managing broker of the Portage Route 6/Willowcreek/La Porte offices.
According to Pat Huber, who leads the capital campaign on behalf of the Dean and Barbara White Foundation, the Southlake YMCA expansion is the largest construction project in Crown Point since the building of Crown Point High School. The difference between the two being that the Southlake Y is a philanthropic project, dependent solely on donations.
The 80,000-square-foot addition will include a six-lane lap pool, a zero-entry warm water pool with a slide and other water features, an outdoor pool with a slide, two new gyms as well as walking/running track and six program studios for cheer, dance and group exercise.
"Crossroads YMCA is very grateful for the support from our many donors including Ron McColly who believe in the vision for the new Dean and Barbara White Southlake YMCA," said CEO Laurie A. Halaska. "The YMCA will be able to bring national programs to South Lake County to help all ages become healthier, more knowledgeable and better people overall."
Ron McColly has supported a variety of charities in Northwest Indiana and the Chicago Southland for most of his 40-plus years as a local business owner. He recognizes the effect the Southlake YMCA expansion will have as an economic driver for all of Lake County.
"I was born and raised in Northwest Indiana," says Ron McColly, president of McColly Real Estate and the McColly Foundation. "I feel it's important to lead by example for my own family, to give back to strengthen our communities and see them continue to prosper and grow. Affordable recreational facilities in the region are important to the quality of life."
Tim McColly, director of the McColly School of Real Estate, remembers when the Duneland Little League called his brother Ron about some land they inherited from their father.
"They wanted to buy it from us for a baseball field for disabled children," he says. "Ron had a different idea and he talked to me and I said OK. So, he called them back and said we won't sell you the land. We'll give it to you."
The many organizations supported by the McColly Foundation include the Crown Point Community Foundation, Crossroads Chamber of Commerce and 14 other regional chambers as well as the Methodist Hospitals Foundation, Cerebral Palsy of Northwest Indiana, Asian-America Medical Society, Forest Ridge Academy, Chesterton Little League, Opportunity Enterprises, and Toys for Tots.
The Riverside Hospital Foundation in Bourbonnais, Ill., recently received a donation of $30,000, presented by Ron McColly, on behalf of the McColly Foundation toward the Lead with Your Health campaign.
Over the last 20 years, Riverside has expanded heart care services to meet the growing need. Heart disease is the leading cause of death for men and women, making it the No. 1 health issue for the Region and a priority area for Riverside's next investment.
"We give back to the community, schools, food pantries and more, and we support local small businesses," said McColly director of marketing and technology, Monica Decker.