Address
10018 Calumet Ave
Munster, IN 46321
Last Updated: September 22, 2014
Hours
| | |
| --- | --- |
| Sunday | 11:00 am - 10:00 pm |
| Monday | 11:00 am - 10:00 pm |
| Tuesday | 11:00 am - 10:00 pm |
| Wednesday | 11:00 am - 10:00 pm |
| Thursday | 11:00 am - 10:00 pm |
| Friday | 11:00 am - 10:00 pm |
| Saturday | 11:00 am - 10:00 pm |
About Cafe Borgia
Cafe Borgia was established in 1986 and features the Italian specialties of chef and owner Mike Jesso. Chef Jesso and his culinary team know that the key to high quality dishes is fresh ingredients. The meal wouldn't be complete without a great wine list and beverage selection. Zagat, an editorial team that curates the best restaurants and nightspots in 17 cities worldwide, gave Chef-Owner Mike Jesso high reviews for an "intelligent wine list," a balanced and affordable variety. The Cafe Borgia wine list boasts 30 varieties that are offered by the glass. At Café Borgia signature drinks are prepared by mixologists at our full-service bar. Chef-Owner Jesso satisfies popular demand by featuring local and imported lagers & ales.

Cafe Borgia specialties include: prosciutto & mozzarella rolls, Insalata Caprese, our pizza assortment, lasagna, stuffed eggplant, shrimp & seashells, Chicken Vesuvio, roasted lamb shank and grilled mahi mahi. We have:

○ Specials
○ Lunch (full-service lunch 7 days a week)
○ Dinner
○ Wine List
○ Beverages
○ Desserts, Coffee & Cordials
○ Carry-Out

For more information visit our website at www.cafeborgia.com.

Don't forget to like us on Facebook!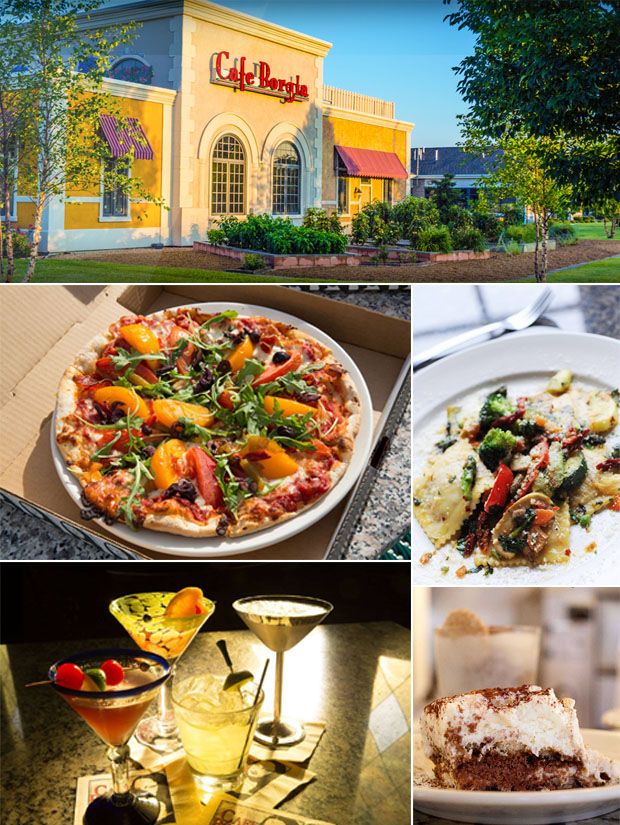 Tags: cafe borgia, cafe, restaurant, italian, lunch, dinner, gift cards, food, desserts, wine, martinis, carry out, private party, outdoor patio, events, special occasions, munster events, munster restarant, munster cafe
Cafe Borgia Special Offers & Events
More About Us
Menus
Specials
---
Lunch
---
Dinner
---
Wine List
---
Beverages
---
Desserts, Coffee & Cordials
---
Carry-Out
Cafe Borgia Offers & Events
Cafe Borgia Videos

See how we make our homemade ravioli!