Address
8365 Wicker Ave (Rt. 41)
Saint John, IN 46373
Last Updated: May 26, 2015
Hours
| | |
| --- | --- |
| Sunday | Closed |
| Monday | 10:00 am - 8:00 pm |
| Tuesday | 10:00 am - 8:00 pm |
| Wednesday | 10:00 am - 8:00 pm |
| Thursday | 10:00 am - 8:00 pm |
| Friday | 10:00 am - 8:00 pm |
| Saturday | 10:00 am - 5:00 pm |
About De Young Interiors
Step into style! At DeYoung Interiors, you'll find a wide variety of home furnishings. Our store is well stocked in attractive room settings to show you the style potential of your home. Our interior design team is also available to make your home decorating dreams a reality. We also offer flooring (carpet, hardwood, laminates and vinyl) and window treatments – we're your one stop decorating shop!
Accepts:

Cash

Discover

MasterCard

Visa
Tags: deyoung and sons furniture, interior design, furniture, bedroom sets, living room furniture, mattresses, sofas, couches, recliners, deyoung furniture
De Young Interiors Special Offers & Events
More about Us
Building relationships, with customers and with family, has been the philosophy behind DeYoung's success for over 80 years. It is a philosophy that Nick and Cora DeYoung instilled in the business when they began their joint furniture store and funeral home in South Holland, IL in 1928. While pairing a furniture store and a funeral home may seem odd today, the practice was common when the makers of fine furniture also made caskets.

It was during these first years, during the depression, that the relationship between the DeYoungs and the community was forged. Nick and Cora would let people pay their bills when they were able to, a little at a time, which built a spirit of trust and friendship with their customers.

With the success of the South Holland store, the DeYoungs opened a second location in nearby Lansing, IL in 1939. While both furniture stores and funeral homes were growing successfully, the DeYoungs knew they would soon have to choose between the furniture stores or the funeral homes. They chose furniture and were able to better serve their customers with more brands and a larger variety of products.

Nick and Cora DeYoung eventually retired and turned the business over to their three sons - Gerry, Arnold, and Sidney. The three brothers successfully ran the business until their retirement in 1993. The stores were then passed to their sons and sons-in-law; Jerry, John, Bob, and Tom. While the stores may have grown over the years, keeping the business within the family has insured that DeYoung's has held onto its "neighborhood" roots and values.

The same spirit of giving personal attention and of building customer relationships is still at the heart of the business. Over time, the DeYoungs closed their South Holland and Lansing locations and, in 2005, the company opened DeYoung Interiors in St. John, IN. This new, spacious location has allowed DeYoungs to offer even more of a variety of furnishings to their loyal customers and to forge new relationships with their new neighbors in Northwest Indiana.
De Young Interiors Offers & Events
Click here
DeYoung Interiors specializes in selling some of the top brands of home furnishings and accessories. Select from our vast showroom, or let us work with you to select that unique piece that fits your home and lifestyle.
De Young Interiors
8365 Wicker Avenue (Rt. 41)
Saint John, IN 46373
219-365-8362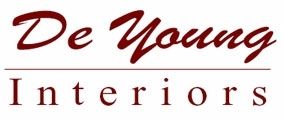 Stop in today to see how De Young can help you!
De Young Interiors
8365 Wicker Avenue (Rt. 41)
Saint John, IN 46373
219-365-8362