Address
629 Joliet St
Dyer, IN 46311
Last Updated: October 20, 2014
Hours
| | |
| --- | --- |
| Sunday | Closed |
| Monday | 9:00 am - 9:00 pm |
| Tuesday | 9:00 am - 9:00 pm |
| Wednesday | 9:00 am - 9:00 pm |
| Thursday | 9:00 am - 9:00 pm |
| Friday | 9:00 am - 9:00 pm |
| Saturday | 9:00 am - 4:00 pm |
About Frankies Auto Sales
Frankie's Auto Sales offers pre driven vehicles at wholesale pricing to the public. They buy, sell or trade used vehicles.
Tags: used cars, pre driven vehicles, used trucks, pre driven trucks, used suvs, pre driven suvs, used vans, pre driven vans, automotive finance, car financing, service, automotive maintenance, oil change, tires, buy here pay here, used car warranty, frankie's, frankie's auto sales, used auto sales, frankies, frankie's, frankiesautosales, dyer, shererville, merrillville, sauk villiage, chicago, calumet city, indiana, illinois, for, sale, used, cars, autos, trucks, vans, 4x4', suv, buick, chevy, chevrolet, ford, daewoo, cadillac, chrysler, dodge, eagle, geo, honda, hyundai, isuzu, kia, lincoln, mazda, mitsubishi, mercury, nissan, oldmobile, plymouth, pontiac, saab, saturn, subaru, toyota, volkswagon, volvobrake jobs
Frankies Auto Sales Special Offers & Events
About Us

Located in Dyer, Frankie's Auto Sales offers a very large selection of used cars(between 140 t0 1600) to the public at wholesale pricing.  Not only do they sell used cars and trucks, but they also buy or trade vehicles.  Finance is rarely a problem with 28 lenders at their disposal.  Good credit scores bring rates as low as 3.5% while poor scores can be a challenge Frankie's has learned to work through.

Frankie's stands behind their sales with a three month or 3,000 mile warranty.  With an experienced service team, they conduct an 80 point inspection  and do required repairs to insure quality.  About 35% of their vehicles still have their factory warranty.  Their inventory specializes in low mileage cars from 2000 to 2010 models.  When you shop at Frankie's be assured that you will be treated with the utmost respect.
Current Specials
Frankies Auto Sales Offers & Events
Call or Stop in today!
Frankies Auto Sales
629 Joliet Street
Dyer, IN 46311
219-865-0077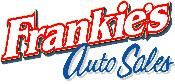 Click here to visit our website.
Frankies Auto Sales
629 Joliet St, Dyer IN 46311
219-865-0077
click here to see!! 
Frankies Auto Sales
629 Joliet Street
Dyer, IN 46311
219-865-0077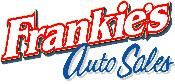 Email Frankies Auto Sales