Address
5164 E.81st Ave. (US 30)
Merrillville, IN 46410
Last Updated: June 26, 2014
Hours
| | |
| --- | --- |
| Sunday | 10:00 am - 3:00 pm |
| Monday | 10:00 am - 5:00 pm |
| Tuesday | 10:00 am - 7:00 pm |
| Wednesday | 10:00 am - 7:00 pm |
| Thursday | 10:00 am - 7:00 pm |
| Friday | 10:00 am - 5:00 pm |
| Saturday | 10:00 am - 3:00 pm |
About Hair Ego
HAIR EGO is a locally owned, full-service salon in Merrillville featuring talented and experienced master stylists. Services include all occasion Hair, Nails, Waxing, and Massages. Our Product Line includes REDKEN, PAUL MITCHELL, BIOLAGE, BIG SEXY, O.P.I, and Chi. We invite you to make sure you get the EGO you deserve and make your hair irresistible!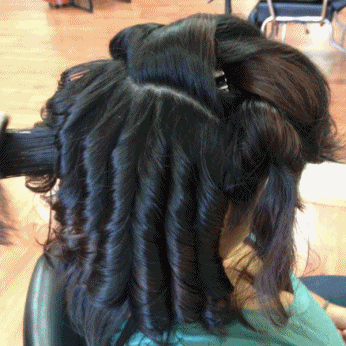 What is my Ego?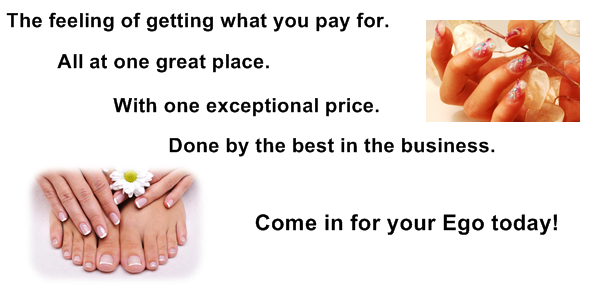 Our Services Include
Friend us on Facebook.
Our Business
Hair Ego is trying to give everyone the opporunity to look and feel great. We pride ourselves at being affordable and qualified while providing a first class atmosphere. Come in to see for yourself why we are the number 1 salon for you. Everyone in Northwest Indiana deseves a great Ego, so come in for yours today. We are licensed, and we also have a barber in the house for your convenience.
Who We Are
We want to give you what you deserve. When I moved to Indiana, I could not find a salon comparable to any of the salons in Miami, FL. I took it upon myself to provide you a first class salon in Indiana with fair prices, yet great service. It took me two years to get this far. Now we do all of Lake Shore Television News at 9:00 pm along with Mrs. Ruth your Neighbor. Everyone is welcome here at Hair Ego. Please come in to our diversified salon and allow us to give you the service you should be receiving.
Walk-Ins welcome, appointments recommended.

Contact us at:(219)942-5048 or (219)942-9731.

We speak English/Hablamos Espanol
We are conveniently located in the area referred to Merrillville /Hobart 2.4 miles east of I-65 on US 30, in Madalyn Plaza. (Across from Cardinal Fitness Center & BMV MERRILLVILLE.)