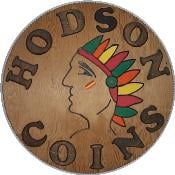 Hodson Coin
Munster
1650 45th Ave , Munster, IN 46321
219-924-3555
Business Overview
John Hodson Coins INTEGRITY AS PURE AS GOLD. Same Location for 35 years. John knows Rare Coins, Cards and Collectables. Specializing in buying Coin and Stamp Collections. BEATING ALL COMPETITIVE OFFERS.
Special Offers & Events
FOR 10K-14K-18K PLATINUM Call 924-3555
Turn in your old gold and platinum into cash at Hosdon coins!!
Find Us
Business Hours
| | |
| --- | --- |
| Sun | Closed |
| Mon | 10:00 am - 5:00 pm |
| Tue | 10:00 am - 5:00 pm |
| Wed | 10:00 am - 5:00 pm |
| Thu | 10:00 am - 5:00 pm |
| Fri | 10:00 am - 5:00 pm |
| Sat | 10:00 am - 2:30 pm |
Recent Photos
Recent Videos
About Us
John Hodson Coins INTEGRITY AS PURE AS GOLD. Same Location for 35 years. John knows rare coins, cards and collectables. Specializing in buying coin and stamp collections. Beating all competitive offers.

John and his son Paul, who manages the business, are interested in buying any broken chains, class rings, unwanted gold, platinum and diamond jewelry, and of course, coins. (He also deals in rare old paper money.) For large collections, feel free to call the business to arrange an appraisal at home.

Thanks to the business' large sales volume, John says, "we pay the highest prices. We're the place for you to realize the maximum rate of return on the items you have." He advises against patronizing Internet-based businesses, which he says underpay for gold jewelry. "Also, whether it's myself or other local businesses, please shop locally with established businesses. Beware of out of-state hotel buyers that you may sell to you and then have no recourse to regain your possibly stolen items or being paid an unfair price." AARP members also receive free appraisals.

With a lifetime of knowledge borne out of a hobbyist's passion for collecting, John has no plans to slow down anytime soon. His shop's phone rings constantly,and he's missed work only six days in 36 years. "I have never had one day where I didn't want to come to work," he says. "I've always done what I loved."
Current Specials
IMMEDIATE $$$CASH$$$
TURN YOUR OLD GOLD JEWELRY INTO CASH
FOR YOUR 10K-14K-18K PLATINUM
Call 924-3555