Address
1300 Erie Ct
Crown Point, IN 46307
Last Updated: July 11, 2014
Hours
| | |
| --- | --- |
| Sunday | Closed |
| Monday | 8:00 am - 5:00 pm |
| Tuesday | 8:00 am - 5:00 pm |
| Wednesday | 8:00 am - 5:00 pm |
| Thursday | 8:00 am - 5:00 pm |
| Friday | 8:00 am - 5:00 pm |
| Saturday | Closed |
Mickey's Car Barn Special Offers & Events
About Mickey's Car Barn
Specializing in Classic Corvette Restoration,
Mickey's Car Barn is widely recognized as being a top leader in the industry.
More About Us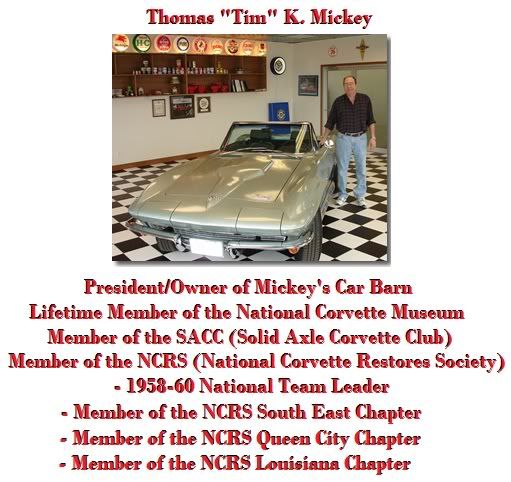 With decades of experience to draw from, we can take your project from any stage and produce a show winning quality vehicle you can be proud of. We work exclusively on Corvettes manufactured form 1953 through 1973. Your satisfaction is something we strive to deliver.
Full Restoration
We do full body off, "rotisserie" restorations to NCRS specifications. Our goal is to present you a new Corvette as it was the year it was produced in St. Louis by General Motors. We do restore it all... if there is a screw inside the radio that has not seen the light of day in 50 years, we are going to remove that screw and restore it before it goes back into the radio for the next 50 years. Truly a new Corvette.
Minor Repairs
We do that too! Want an oil change, shocks replaced, maybe a tune up, or a piece of weatherstrip replaced? There really is no job too small!
DISASSEMBLED & PARTIALLY RESTORED CORVETTES
Basket cases as many refer to them. If you are having trouble getting one back together or have just lost interest spending evening and weekends in the garage, we can take over for you and complete the job. Maybe this is just a single item that seems a daunting task, such as a dash pad installation. We can complete any one item and return the Corvette for you to complete, if desired.
Testimonials
Mickey's Car Barn Offers & Events