Address
1000 Eagle Ridge Dr, Suite G
Schererville, IN 46375
Last Updated: October 17, 2014
About Northwest Indiana Martial Arts Academy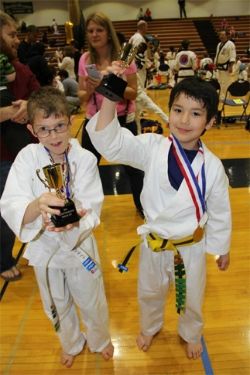 Northwest Indiana Martial Arts Academy proudly services the community by focusing on physical fitness, character development and self-defense, rather than fighting. Our overarching goal is in building our student's self-esteem. Locally owned and operated by Adam Theros, who has more than 20 years of professional experience and expertise, the Northwest Indiana Martial Arts Academy provides a way to a better you.

Conveniently located at 1000 Eagle Ridge Drive, Suite G, in Schererville, the Northwest Indiana Martial Arts Academy has martial arts instructors that are trained to ensure our classes are safe, effective and fun. Theros and Adam Sowatzke are trained to focus on more than just teaching martial arts skills. Instructors also learn how to work with all students, tailoring their martial arts teaching methods to fit the individual child. Emphasis is put on encouragement and positive correction.

For more information, you can contact us at (219) 595-7365. You also can visit our website at: www.nwindianamartialarts.com. You can even like us on Facebook or email us at: nwimaa@gmail.com.

As soon as you become a martial arts student, you join a community that works together toward improved physical strength and stamina, better focus and concentration, greater self-discipline, competency in self-defense and, most importantly, increased self-confidence.

For us at Northwest Indiana Martial Arts Academy, the practice of martial arts means respecting each other, encouraging and supporting each other and celebrating each other's successes.

These values are especially important in working with children and families — the primary focus of our martial arts school.

We have martial arts programs for students of all ages.

For children, our emphasis is on character development and physical fitness.

With adults, our goal is to deliver all of the benefits of martial arts, including improved muscle tone, increased cardiovascular fitness, lower stress levels, increased energy, and greater flexibility.

Self-defense is also emphasized, but it's always tempered with the training on how to seek alternatives to conflict.

Each of our martial arts instructors is committed to teaching the physical skills while applying attitude-shaping exercises aimed at bringing out the best character and physical potential in each student.



Accepts:

American Express

Cash

Check

Discover

MasterCard

Visa
Tags: martial arts, martial arts academy, karate, self defense, children martial arts programs, adult martial arts programs, family martial arts, anti-bullying programs, children's birthday parties, teen birthday parties, character building, tang soo do, northwest indiana martial arts academy, schererville, in martial arts, schererville, in karate, schererville, in self defense, fitness martial arts, discipline, verbal self defense, physical fitness
Northwest Indiana Martial Arts Academy Special Offers & Events
martial arts School Programs
In addition to teaching martial arts to our own students, we also offer programs for schools.

Our instructors will come to your school either during the school day or after school to deliver training that integrates the physical aspects of martial arts with lessons about character development, confidence, respect, and leadership.

Below are details on two proven programs we offer to local schools, Be Your Best and Verbal Self Defense.

To get more information about our school programs, please contact us. We look forward to working with you on our common goal of making sure the leaders of tomorrow are successful and confident today!

Character Education: The Be Your Best Program

Here is the structure of this program:

I. Introduction day

As a guest gym teacher or a guest speaker in the classroom, we work with the assigned grade levels to create interest among the children. We talk about the following:

How to be a good listener and show respect for the teachers
You are what you sound like — confidence in the classroom
Dealing with a bully — using verbal defense tactics to deal with confrontation

II. After school program, five classes (taught at your school)

Two classes a week, after school
Classes focus on respect, discipline and focus skills. Parents contribute $19 to $39 for the program — the cost is up to you. One hundred percent of the fee is donated to your school.
We volunteer our time for the entire program and donate supplies.
Kids have daily homework assignments that are discipline and character related.

Verbal Self Defense

Our Verbal Self Defense program provides children and adults with tools which help resolve conflicts by controlling their responses and using specific word blocks. This same program is used by police officers across the country to de-escalate potentially dangerous situations. Our staff has participated in the same training program slightly adapted to make the messages applicable to children. The program is modifiable for all age levels, group sizes and time frames.


more about us

Martial Arts Isn't Just For Kids

While our martial arts training is an excellent personal-development activity for children, it's great for adults also.

Our Northwest Indiana Martial Arts adult students usually find that they cope better with stress, sleep better at night, work better during the day and just feel better overall. They also have a greater peace of mind due to the knowledge and expertise on what to do if faced with a dangerous situation.

However, the greatest benefit of martial arts at Northwest Indiana Martial Arts Academy for adults is the increased sense of self confidence it builds.

No matter what the style of martial arts — whether it's karate, kung fu, taekwondo, jujitso, judo, aikido, tai chi or kendo — the physical and mental benefits are similar.

Physical Benefits of Martial Arts

Increased cardiovascular fitness
Improved muscle tone
Increased energy
Greater flexibility

Mental Benefits of Martial Arts

Lower stress levels
Higher self-esteem
Emotional satisfaction — especially if you're taking martial arts classes alongside your children
Better concentration and focus

All of the martial arts classes are individualized. Adults participate at their own fitness level while progressing in skill and technique.

When participating as a family, martial arts provide a unique opportunity for sharing in a non-competitive fun activity. Plus, parents have the opportunity to reinforce the life lessons taught in our martial arts classes at home.

We provide an ideal workout for both men and women. Our adult martial arts students range in age from young adult to seniors.

Martial Arts Builds Young Minds and Bodies

Children love learning at Northwest Indiana Martial Arts Academy. Our kids martial arts programs are high-energy, fun and interactive.

The overarching goal of our school is to build our students' self-esteem, which we do by acknowledging, recognizing and rewarding not just our students' accomplishments and successes, but their efforts as well.

Learning martial arts is a physical endeavor, involving all muscle groups to help develop a student's physical fitness. But our emphasis goes far beyond just learning physical moves and martial arts techniques. At Northwest Indiana Martial Arts Academy, we use martial arts as a mechanism to develop positive character and life-improvement skills in our students.

Our martial arts emphasis is on the personal-development aspects of martial arts, such as increasing self-confidence, improving focus and concentration, developing self-discipline, and optimizing physical fitness.

Traits That Martial Arts Develops in a Child

Self-esteem
Focus
Concentration
Self-discipline
Physical fitness
Self confidence
Positive attitude
Leadership
Respect
Patience
Goal setting
Manners
Strong work ethic

Classes at our school end with group discussions and role-playing exercises. We touch on life lessons and discuss alternate resolutions to some of the issues children face today. These issues are discussed in a non-threatening, proactive way.

Children pay close attention as we explore topics that include:

Avoiding conflicts
Dealing with bullies
Mental self defense
Proper respect for adults
Stranger awareness
Respect for self and others
Saying no to drugs and peer pressure

These valuable life lessons help our martial arts students understand the connection between what they learn in class and the real-world applications that make martial arts practical and insightful skills for school-age, and beyond.

We are committed to teaching the physical skills of martial arts while applying attitude-shaping exercises aimed at bringing out the best character and physical potential in each student. Through weekly martial arts training, instructors advance their own martial art and educational knowledge to become even more effective martial arts teachers.

The Northwest Indiana Martial Arts Academy instructors are required to maintain their personal level of martial arts knowledge and a high level of personal growth. They are expected to take classes on a regular basis and test at least once per year.

Our staff at Northwest Indiana Martial Arts Academy looks forward to working with you!



Northwest Indiana Martial Arts Academy Offers & Events
Email Northwest Indiana Martial Arts Academy