Siding
Remodel your home with expert and professional workmanship! 
We do all of the work, J&J Remodeling does not hire subcontractors.
Our top quality siding materials will make your home or office look
new, beautiful, and will even be more energy efficient.
For more information on our siding services please visit our siding page.
Roofing
J&J Remodeling's team of roofing contractors can tear off
and replace your old and leaky roof.
J&J Remodeling replaces old or damage roofs, on new or old homes.
Tired of a leaky home every time it rains, or is it time to replace those old shingles? 
J&J Remodeling works year round, and can do any remodeling project rain or shine. 
For more information please visit our roofing services page.
Window  Replacement
J&J Remodeling installs top quality windows in homes, offices, businesses or
even industry buildings from new construction-to-historic architecture.
J&J Remodeling offers an array of window replacement services which include:
all styles available, argon gas, window and door trim, custom made windows and doors.
All windows or doors that J&J Remodeling installs are professional installation
and include a lifetime non pro-rated warranty. 
For more information please visit our window replacement page
Gutters
J&J Remodeling offers gutter cleaning services to all of their customers,
however to prevent gutter cleaning, we offer gutter guard installations.
Gutter Guards are maintenance free and will save you
time and money cleaning your gutters.
If you currently do not have gutters guards contact J&J Remodeling
for more information on this amazing product.
Leaf relief gutter guard will fit your existing aluminum gutters,
and save you money, and your valuable time.
For more information please visit our Gutter Services Page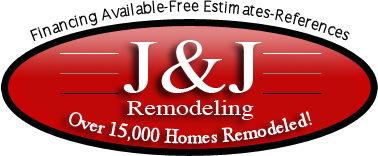 J & J Remodeling, Inc.
Serving Crown Point and the surrounding areas.
Call 219-769-3239 (Merrillville) or 219-663-6418 (Crown Point).