FAT PREDATOR places your body in a THERMOGENIC MODE 24 hours a day. That means all day and all night your body is consistently burning the stored body fat and the calories from the food you eat. Fat Predator also gives you a high energy level and suppresses the appetite. You'll normally see results in 3-5 days, both in pounds and inches.
FAT PREDATOR CROSS TRAINS YOU DOWN TO ANY SIZE YOU WANT TO BE!!!
Click here for more information and to view our products.
Fat Predator Supplements & Nutrition
7849 Taft St. Suite A, Merrillville, IN 46410
219-769-8320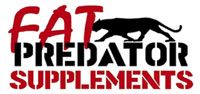 "Stalking Body Fat Like a Wild Animal!"