More About Us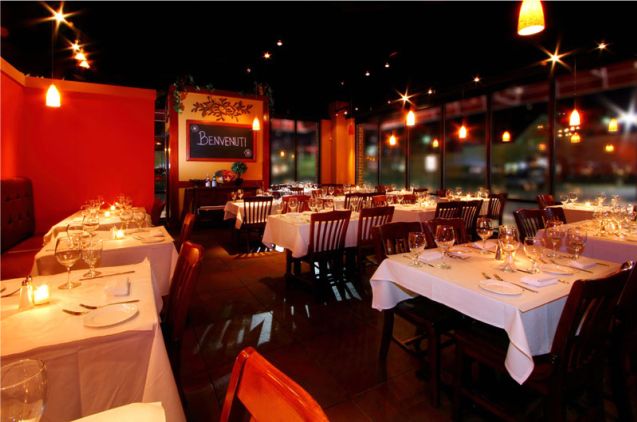 Welcome to Ciao Bella Ristorante Online. Ciao Bella focuses on regional Tuscan cuisine, offering original recipes like Rigatoni Boscaiola (mushrooms, Calabrese sausage and peas sautéed in a tomato cream sauce), Pesce Bianco (white wine in a lemon caper sauce with bed of spinach garlic) and Tagliata Toscana (NY strip steak with rosemary, peppercorn, broiled and served with arugula and rosemary potatoes), among many other entrees. There's also a full array of home-made Italian-style thin-crust pizzas, all made with the freshest ingredients. Owner Joe Scalzo's favorite? The Quattro Stagioni, topped with tomatoes, artichokes, prosciutto and black olives.

"We wanted to bring a little trattoria feel, here in NWI." "I think people want to feel cozy, they like the enchanting atmosphere we offer in these small restaurants." Giuseppe "Joe" Scalzo, was born in Calabria, Italy, and worked in multiple Tuscan trattorias before emigrating to the United States 15 years ago, when he was 27 years old. Joe was raised in southern Italy, where he studied mechanical engineering. He fell in love with cooking while in Florence, spending time working at a small, intimate restaurant in the evening. He was offered the chance to take over the restaurant, but already had plans to come to the United States.

When he arrived to study international business at Loyola University in Chicago, he soon discovered that his desire to operate a restaurant had not gone away. Having a place where people can share love and friendship over good food that's prepared with experience and skill is something beautiful. Joe has owned two Chicago restaurants, Piazza Bella (since sold) and Via Carducci (now owned by his brother John) before joining Rosebud Restaurants.

Ciao Bella (which translates to "hello, beautiful") is a reminder that Italian food can be much more than lasagna, ravioli and spaghetti. "The Mediterranean diet is one of the best in the world". "Just good, authentic food made with love and passion. Pair with a beautiful wine and it's wonderful".