Address
Serving all of Lake, Porter, and Jasper counties
DeMotte, IN 46310
Last Updated: September 24, 2014
Hours
| | |
| --- | --- |
| Sunday | 7:00 am - 6:00 pm |
| Monday | 8:00 am - 5:00 pm |
| Tuesday | 8:00 am - 5:00 pm |
| Wednesday | 8:00 am - 5:00 pm |
| Thursday | 8:00 am - 5:00 pm |
| Friday | 8:00 am - 5:00 pm |
| Saturday | Closed |
Holiday hours:
Special hours: 24/7 emergency services available.
About Russell's Tree Care
Russell's Tree Care has proudly served the community since 1985 by providing exceptional customer service for our valued clients. Locally owned and family operated by Russell Sessions and his twin sons, Zach and Logan Sessions, Russell's Tree Care is a reliable company that specializes in safely removing a tree from your yard and clearing land for construction.

When you work with Russell's Tree Care, you are working with experts. Russell has been a licensed ISA certified arborist since 2007. Zach also is an ISA certified arborist, and Logan soon will be a licensed arborist.

Our specialty is commercial and residential tree removal and trimming. Whether you are a construction company or a home owner, we can remove or trim those troublesome trees for you.

We offer a wide variety of trimming and removal services, including: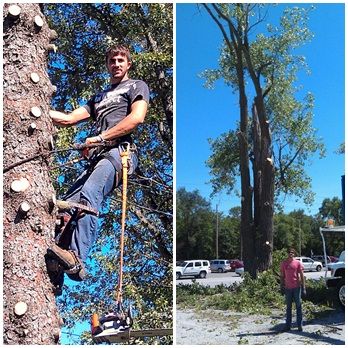 * Tree Service
* Land Clearing
* ROW Clearing
* Insurance Work
* Shaping
* View Enhancement
* Lot Clearing
* Low Impact Removal
* Removal of Dead Stock
* 24-Hour Emergency Service
* New Development
* Storm Damage
* Tree Trimming
* Tree Pruning
* Crown Reduction
* Diseased Removal
* Hazardous Removal
* Stump Removal
* Tree Removal

Please call us 219-863-9953 or 219-887-5502 for more information.
Accepts:

American Express

Cash

Check

Discover

MasterCard

Visa
Tags: russell's tree care, arborist, tree service, tree care, tree removal, tree pruning, stump removal, trimming, lot clearing, emergency tree care, hazardous tree removal, commerical, residential
Russell's Tree Care Special Offers & Events
More About Us
In the commercial field, our resume is quite extensive in both Indiana and Illinois. Some of the projects we've been associated with (Chicago) are the Lake Shore Drive reconstruction project, the 80/94 construction project, and the 11th St. underpass (Soldiers Field) project. In Indiana, we cleared land for the I-65 toll road project, the Buffington Harbor expansion, and most recently a clearing contract on US 20 in Gary, IN. Anywhere in the Midwest, we're but a phone call away. We are also proud members of the (CLA) Christian Labor Association. No job is too big or too small.
Russell's Tree Care seeks to raise the standard for customer expectations. It is our goal to distance ourselves from the "good ol' boy" philosophy often associated with the industry. Professionalism is NOT a cost that we pass on to our customers. By furthering our understanding of arboriculture and how it pertains to tree care operations, we can offer our customers more options than our competitors. An arborist is on site at both residential and commercial jobs to ensure that customer expectations are met. Russell's Tree care actively seeks to be the most professional tree care service available.
Our Employees
♦ Russell Sessions:
Russell has been in the tree care industry for over 25 years, serving Northwest Indiana and surrounding areas. It is his personal goal to offer the most professional tree care service, and to raise the standard for the industry. He is a certified arborist and a member of the ISA. Russell oversees the entire operation, making sure that customer expectation is exceeded.
♦ Logan Sessions:
Logan has been working for Russell's Tree Care for the last five years. He is one of Russell's twin sons and he shares the same devotion for the business as his father. Logan attends the Kelley School of Business at IUPUI, which ranks 10th in the nation currently. Eventually, Logan and his brother intend to expand the business and further develop the services that are offered.
♦ Zach Sessions:
Zach has been working for Russell's Tree Care for the last five years. He is also Russell's other twin son. Zach attends the Kelley School of Business at IUPUI and is majoring in Supply Chain Management and Economics. Zach is also a certified arborist and member of the ISA just like his father. Zach's experience as an arborist helps to ensure the standards of the tree care industry are attained.
Current And Past Projects:
- Carle Hospital Expansion (Champaign, IL)

- Limeston Reservoir (Thorton, IL)

- I-65/109th Street Exit (Crown Point, IN)

- Lake Shore Drive Reconstruction (Chicago, IL)

- Kentland Ditch Renovation (Kentland, IN)

- New Sewer Project (Bondville, IL)
Russell's Tree Care Offers & Events
Email Russell's Tree Care