Address
4 W 81st Ave (US 30)
Merrillville, In 46410
Last Updated: October 20, 2014
Hours
| | |
| --- | --- |
| Sunday | 11:00 am - 6:00 pm |
| Monday | 10:00 am - 9:00 pm |
| Tuesday | 10:30 am - 9:00 pm |
| Wednesday | 10:00 am - 9:00 pm |
| Thursday | 10:00 am - 9:00 pm |
| Friday | 10:00 am - 9:00 pm |
| Saturday | 10:00 am - 7:00 pm |
About Walter E Smithe Furniture Inc
Custom order upholstery. Your beautiful new home furniture will have the comfort and quality you'd expect from Walter E. Smithe. In our 60 years of experience, we have partnered with only the finest craftspeople who build furniture with skill and care.
Tags: walter e. smithe,custom,furniture,store,about,history,testimonials,news,careers,gift certificates,
Walter E Smithe Furniture Inc Special Offers & Events
15% cash discount at Walter E Smithe!
October 20, 2014 12:45 pm
More About Walter E Smithe Furniture Inc
Walter E Smithe Furniture Inc
4 W 81st Ave (US 30)
Merrillville IN, 46410
219-794-9261

Current Specials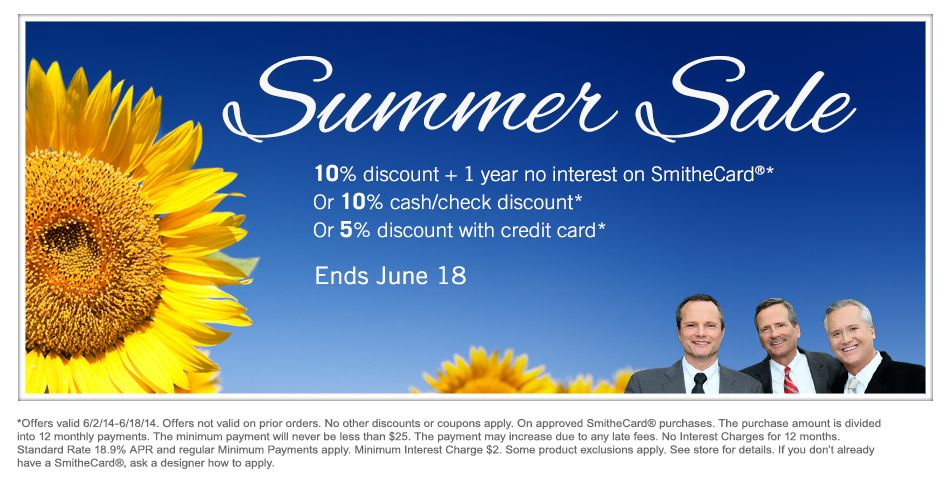 More about us
The roots of our Company go back to 1945. With World War II coming to a close, my grandfather, Walter E. Smithe, Sr., sensed the potentially great demand for household products. Forming a partnership with Bill Shanahan, Grandpa Smithe started "Tone Appliances and Furniture" on the northwest side of Chicago. With all the returning veterans, pent up demand and a peacetime economy, business was good.
Soon after opening, the two entrepreneurs decided that it made good business sense to put their own names on the front door. It was not long until "Smithe and Shanahan" became a well-known name on Belmont Avenue. Shortly after, Bill Shanahan decided that he did not want to expand the business, and he sold his share of the business to my great uncle, Charles Smithe.
The fifties were a time of growth in our Company's size and the diversity of the products we sold. Household appliances, furniture and a hot new item, television, kept the cash register ringing. The fledgling Company expanded into kitchen cabinets and furniture. During the busy sixties, my father, Walter E. Smithe, Jr., joined the Company after working in the computer industry with the Army, General Electric and IBM. He pioneered the concept of custom order upholstery in Chicagoland. This is a specialty where Walter E. Smithe continues to define the cutting edge. His leadership refocused the Company to an image still recognizable today.
In the late seventies, I joined the Company and, in fact, sold the last refrigerator as we phased out of the appliance business. In the early eighties, my father and I were joined by my brothers Tim and Mark, sister Margie and, over time, many other talented associates.
Why Choose Walter E. Smithe?
1. Walter E. Smithe designers offer furniture selection, textile combining, color consultation, space planning, and accessory placement.
2. Design services from more than 300 of Chicagoland's top designers included with purchase.
3. Your purchase is backed by a four-generation, family – owned and – operated business (60 years and still growing).
4. Unparalleled product selection and versatility – more than 500 collections to choose from, all under one roof.
5. Our furniture is made with the finest materials, craftsmanship and quality assurance.
6. Every piece of furniture is backed with the best warranties in the business; lifetime on frames and springs, and 10 years on cushions.
7. Solid hardwood frames, kiln-dried for sturdiness with double doweled corners that are screwed, glued and jointed.
8. We call every client with the status of their order right up to delivery, at a time that is convenient for your schedule.
9. In-home delivery and setup.
10. Complete your purchase with no money down using a SmitheCard.
Walter E Smithe Furniture Inc Offers & Events
15% cash discount at Walter E Smithe!
Go to Smithe.com to get your $500 coupon!!
1-800-WITH-AN-E
Stop in Today!
Walter E Smithe Furniture Inc
4 W 81st Ave (US 30)
Merrillville IN, 46410
219-794-9261