1966 Merrillville Grad

TNT analyst Charles Barkley offers comic relief for much of the NBA season, but occasionally hits one out of the park with his observations.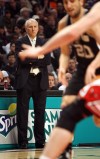 CHICAGO | You won't find Gregg Popovich puffing on a fat cigar, doing national commercials, appearing on late night TV or gracing the cover of Sports Illustrated.

Most Popular
Poll
Loading…
Should Winfield hire a town marshal and deputies?