2013-14

Calumet College center Rebecca Arredondo, a Highland grad, is third in scoring (9.1 ppg.) and second in rebounding (4.8) for the Crimson Wave.

In this Feb. 14, 2013 file photo, Miami Heat forward LeBron James (left) and Oklahoma City Thunder forward Kevin Durant (right) battle for position during their game in Oklahoma City.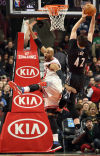 CHICAGO | The venerable Palace Grill, a city landmark for years located just up the street from the United Center, has a sign on the window that reads: Sorry, We're Open.

Most Popular
Poll
Loading…
Do you agree with the administrative merger of Purdue University's Hammond and Westville operations?