Albany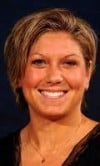 When Kelly Komara played in two Final Fours with the Purdue women's basketball team, she and her teammates were oblivious to the coaching conventions taking place at and around the event.

You don't need to be a professional designer, or even much of a sewer, to create one-of-a-kind bedding that looks as nice as the stuff of dreams.
Poll
Loading…
Do you expect the former Sheraton Hotel in Gary to be demolished by the end of the year?