Alligator

I can't help but wonder if Portage Mayor James Snyder was a fan of "Mutual of Omaha's Wild Kingdom."
VALPARAISO | The Indiana Department of Natural Resources is not getting involved in an incident in which a small alligator bit a boy on the finger Sunday at the local Zao Island amusement park.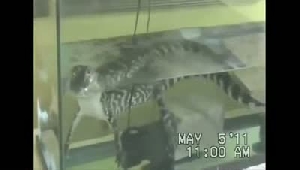 Cook County Sheriff's Police on Thursday seized a four-foot alligator that was being kept illegally as a pet by a man in south suburban Ford Heights. The man is charged with possession of a dangerous animal. (No audio.)

Poll
Loading…
Is Governors State University smart to become a four-year school?