Amadeus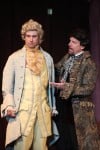 Actors Christopher Daley as Wolfgang Amadeus Mozart (left) and Kevin Theis as rival composer Salieri star as the leads in "Amadeus" playing now until July13, 2013 on the outdoor stage at Austin Gardens in Oak Park, Ill. for the 2013 Oak Park Festival Theatre 39th summer season.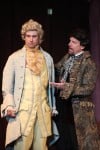 Phil Potempa's daily entertainment news column.

Poll
Loading…
Will you be glad to see bus service restored in Hammond?