Amanda Snider
VALPARAISO | The city could have two home furnishing stores opening in the next 60 to 90 days.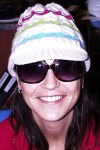 Amanda Snider, Portage | "Absolutely. Those who don't smoke shouldn't be subjected to secondhand smoke in public, especially kids."

Poll
Loading…
Should Porter County Auditor Bob Wichlinski adjust wages to reflect cross-training in his streamlined office?