American Horror Story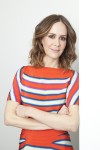 For those who get creeped out watching "American Horror Story: Asylum," don't worry. You're not alone. Sarah Paulson, one of its stars, says the show's dark and twisted story lines can unnerve her, too.

Poll
Loading…
Do you agree with the administrative merger of Purdue University's Hammond and Westville operations?