Anderson Foundation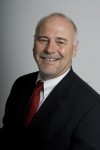 As you have probably seen in the paper the past few weeks, the Tolleston project (which is remodeling the old Tolleston building into a new Boys & Girls Club) is well underway and should be open for business in October.
VALPARAISO | With the baby boomers reaching retirement -- another one hits 60 every 7 seconds -- the city has hired a consultant to develop a master plan for meeting the needs of seniors for the long term.

Poll
Loading…
Will you be glad to see bus service restored in Hammond?