At Your Service Corkscrew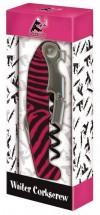 The "At Your Service Waiters Corkscrew" from Cork Pops is an easy to use wine bottle opener that includes a retractable foil cutter blade and features a double lever boot system that will make opening wine bottles a breeze. It is $11.50 at CorkPops.com.

A tight squeeze

Poll
Loading…
Should Winfield hire a town marshal and deputies?