Attraction
HOMEWOOD | The second annual South Suburban R.C. Air & Water Show takes place 10 a.m. to noon Aug. 10, the Homewood-Floosmoor Park District announced.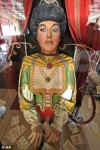 Despite reports of a $2 million offer from magician David Copperfield, Montana Heritage Commission curators have declined to sell an old-fashioned fortune-telling machine called "The Gypsy," believed to be built around 1906.

Poll
Loading…
Will you be glad to see bus service restored in Hammond?