Away

Rep. John Murtha (D-Pa.), left, gestures as he and Sen. Richard Lugar (R-Ind.), talk to reporters in the press briefing room at the White House in Washington, 1986. Lugar and Murtha led a 20-member team of U.S. observers watching the Philippine presidential election. The team said the ballot…

President Franklin D. Roosevelt asked Congress to declare war Dec. 8, 1941, one day after the Japanese attack on Pearl Harbor, a U.S. military base in Hawaii.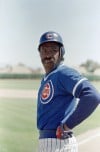 Cubs outfielder Andre Dawson smiles before a March 29, 1988, spring training game. "The Hawk" will go into the Hall of Fame today as one of just three players with at least 400 home runs and 300 stolen bases.
Poll
Loading…
Should Indiana switch to open primary elections?