Barbara Young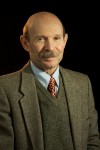 From the time he was a little boy digging seven-foot-high foxholes in the dunes around the Wabash tracks in Gary, Tom Sourlis had a fondness for working with his hands, his head and his heart.
VALPARAISO | The homeless problem in Porter County is growing, but a coalition is working on a plan it hopes will end homelessness within 10 years.

Poll
Loading…
Is Governors State University smart to become a four-year school?