Baseball Writers Association Of America

NEW YORK | The most polarizing Hall of Fame debate since Pete Rose will now be decided by the baseball shrine's voters: Do Barry Bonds, Roger Clemens and Sammy Sosa belong in Cooperstown despite drug allegations that tainted their huge numbers?

NEW YORK | Barry Larkin was elected to baseball's Hall of Fame on Monday with plenty of room to spare.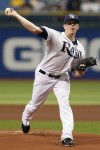 NEW YORK | Craig Kimbrel overpowered hitters with his rocket right arm, then overwhelmed rivals in the NL Rookie of the Year voting.
Poll
Loading…
Should Indiana switch to open primary elections?