Belarus
The images we saw last week are grotesque, disturbing, heartbreaking and might be just a preview of things to come.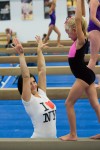 VALPARAISO | Dominique Moceanu's Olympic gold medal is in its original wooden case in a fireproof box in her Cleveland home.

ST. JOHN | Just like the good old days, Oleg Fedosov and his former trampoline teammate Slava Marozau are back in sych.

Poll
Loading…
Should Indiana have kept the Common Core standards for K-12 instruction?