Bill Of Rights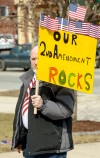 VALPARAISO | The price of liberty is to be eternally vigilant, William Morgan told those gathered Saturday at a Second Amendment support rally.
Before blaming the GOP for all our economic woes, I suggest reading the U.S. Constitution and original Bill of Rights. I defy anyone to find the clause that requires the federal government to give the people health care, an income, jobs, housing, etc.
The Bill of Rights is nothing but words written on a piece of paper from our Founding Fathers. Where do the American people have life, liberty and the pursuit of happiness? Just where is our freedom of speech or our equal rights? As for we the people are our own government, that's the bigges…

Poll
Loading…
Do you agree with the administrative merger of Purdue University's Hammond and Westville operations?