Bingo For Books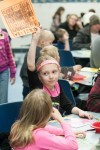 Jones Elementary student Tessa Doan, 8, holds up her bingo sheet after her second win on Wednesday during the Jones Elementary Bingo for Books program. Students were treated to pizza and games of bingo at the event, and rewarded with books and other reading-related prizes for winning.

Dale Bunton helps his daughter, Kaylee, 5, mark down a spot on her bingo card on Wednesday during the Bingo for Books program at Jones Elementary School in Portage. Children were treated to pizza, games of bingo and free books during the event, which is part of the TItle I reading program.
Poll
Loading…
Should Lake County join the Shared Ethics Advisory Commission?