British People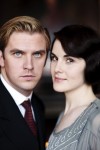 There are many delicious reasons to watch the returning "Downton Abbey" and an exasperating one to skip it: The cover's been blown on major plot twists.

Every year fashion offers up the good, the bad and the ugly. But what the industry is really built on, and consumers respond to, is buzz.

A New Year's bash is one of the easier parties to throw. Everyone's already in the merry-making mood, so it's a simple matter of setting the stage.
Poll
Loading…
Do you expect the former Sheraton Hotel in Gary to be demolished by the end of the year?