Btsmenu

Hammond High School juniors, from left, Angelica Silva and Esmeralda Ramos check their breakfast on Aug. 8, orientation day, of cold cereal, bread, juice and a container of milk prior to mentoring the incoming freshmen for the new semester that starts Aug. 22.

Hammond High School students pick up their breakfast as cafeteria manager Carol Kitchens checks the number served of the 60 meals made for Freshman Orientation Day on Aug. 8.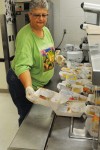 Hammond High School cafeteria manager Carol Kitchens places in the food showcase one of 60 breakfasts. The meal was provided to football players and freshman mentors Wednesday during Freshman Orientation Day.

Poll
Loading…
Are you content to let the courts rule on the fate of same-sex marriage?