Cardiac Surgery

Success stories for patients are among the most rewarding stories of all, for both the patient and the doctor.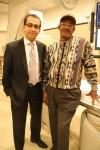 The news that Tyrone Brown of Hammond had several blockages in his arteries was grim, especially after having endured triple bypass surgery just a few years ago.

Poll
Loading…
Has your family been affected by drug abuse?