Choose Your Own Adventure

While sorting and reviewing the existing book collection, Kristal Rada, head of Youth Services Department at Portage Library, decided it was time for some early spring cleaning.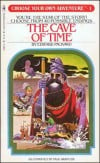 Bantam Books created the "Choose Your Own Adventure" book series, geared to ages 10 to 14, and sold more than 250 million copies between 1979 and 1998.

Poll
Loading…
Do you agree with the administrative merger of Purdue University's Hammond and Westville operations?