Chris Sheid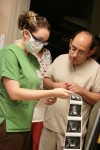 Unlocking the right door for education is not always easy.

Intense competition has forced schools to stay ahead of the curve by clearly defining their academic offerings. In the business world, it's a concept known as branding.

GARY | An Indiana University Northwest graduate has landed an internship with De Line Pictures, which produced the summer superhero film "Green Lantern."

Most Popular
Poll
Loading…
Should Porter County Auditor Bob Wichlinski adjust wages to reflect cross-training in his streamlined office?