Civil Rights Act Of 1964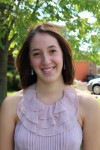 It's that time of year again. Black History Month -- when schools across America adorn their hallways with African-American icons and Civil Rights champions. When classrooms discuss Martin Luther King's powerful "I Have a Dream" speech and appreciate the courage of Rosa Parks and others.

At the conclusion of the 1787 Constitutional Convention in Philadelphia, James McHenry, one of Maryland's delegates, stopped Benjamin Franklin as he left Independence Hall.

Poll
Loading…
Should Winfield hire a town marshal and deputies?