Clarice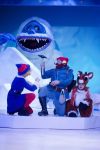 Michael Saguto is used to be busy this time of year helping audiences of all ages capture the stage spirit of the season.

From left Rudolph, played by Alex Grelle, meets the very exciting Clarice, played by Katherine Glavin, in Hell in a Handbag's 15th Anniversary Run of "Rudolph, the Red-Hosed Reindeer" playing in Chicago now through Dec. 29, 2012.

Poll
Loading…
Has your family been affected by drug abuse?