Coach Bryce Drew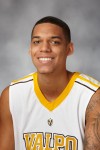 VALPARAISO | Though it feels like the entire Valparaiso men's basketball team graduated after last season, there are still a handful of players who remain from the program's first NCAA tournament team since 2004.
VALPARAISO | With a roster that includes eight newcomers, Valparaiso men's basketball coach Bryce Drew wanted to make sure his players received baptism by fire this season.

AUBURN HILLS, MICH.| And now the questioning, the second-guessing, begins.

Poll
Loading…
Should Winfield hire a town marshal and deputies?