Common Sense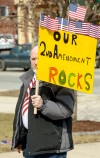 VALPARAISO | The price of liberty is to be eternally vigilant, William Morgan told those gathered Saturday at a Second Amendment support rally.

How many of our legislators ran on this platform: "I am going to try and ram my party's agenda down the other party's throat regardless of whether it is good for the state or the country? I promise to not work with the other side, and if I can't get my way I will run off, shirking the respon…

Poll
Loading…
Should Indiana have kept the Common Core standards for K-12 instruction?